! THURSDAY REPORT ON-LINE><! 22/10/1998 Issue><! By: S. Mehrad B.Eng. For comments and problems contact: technical@mehrad.qc.ca> <! http://www.mehrad.qc.ca>
Global crisis affects world's poor
by Sylvain Comeau
---
Nations that were sold on the wonders of globalization are now suffering as world currency and commodity markets slide, speakers said at a Karl Polanyi Institute conference on Saturday.
Norman Girvan, a professor of social sciences at the University of the West Indies in Jamaica, said the problems brought to the world's attention by the Asian currency collapse are hardly new. "People talk about the Asian contagion, but my country has been living with that kind of thing for 25 years."
The social problems caused by economic collapse are manifested in an attack on society's foundations.
"If you look at the root of my society, you will see a civil war," Girvan said. "Sixty per cent of murders occur within the family and the community. That means that people are attacking those institutions, instead of looking to them for support. This is a society in which individuals are looking for solutions to the problem of survival."
Girvan blames the shock of modernization, when economies rushed to join the global economy. "We are being restructured and reformed to death," he said. "The liberalization of economies, without a strong regulatory framework, leaves societies like ours vulnerable to short-term movements of capital."
University of Toronto political studies professor Mel Watkins echoed the sentiment, but from a Canadian perspective. He said that Canada is also endangered by the flight of capital out of Canadian financial instruments, particularly when it comes to our battered loonie.
"The long decline of the loonie is certainly part of the current currency crisis in the world. When we read the business press, we are constantly being told that so-called 'commodity-based economies' are particularly in trouble these days, with commodity prices still falling, as they have for 25 years. Unfortunately, when currency traders around the world think Canada, they think commodities."
The Canadian dollar has shown a 25-year decline relative to the U.S. dollar, the same period as the long-term commodity decline, and the trend is not likely to turn around any time soon.
"We live in an economy that is based on staples," Watkins reminded his audience. "Unfortunately, the world prices for these staples, such as lumber, pulp and paper, cotton, iron ore and nickel, are all currently depressed. I don't want to be gloomy here, but forecasters do not see prices rising for at least the next three years."
Thus, Canadians have become hostages to the fickle up-and-down price movements of goods on the world market.
"During the free trade negotiations, one got a little bit tired of hearing lectures -- for example, from Harvard Business School professors -- on how Canadians have to learn to 'live in the world market,'" Watkins said. "Ask the fishermen of Newfoundland or the Saskatchewan wheat farmers where they live."
During the discussion period following his lecture, Watkins was asked whether the Canada-equals-commodities connection drawn by currency traders is a matter of perception or reality.
"I hate to say anything supportive about the guys in the red suspenders, but they're right," Watkins replied. "People always talk about how Canadian exports are up, but nobody mentions that imports are up, too. We are net exporters of resources, but not of manufactured goods. So, in that respect, we look like Brazil, Chile and Russia, countries which are all in trouble today."
The conference was held in honour of the achievements of Professors Kari Polanyi-Levitt and Gregory Baum, on the occasion of their 75th birthdays, both of which occurred last spring. Polanyi-Levitt is a former McGill professor of economics and the daughter of Karl Polanyi; Baum is a noted theologian and McGill Professor Emeritus of Religious Studies.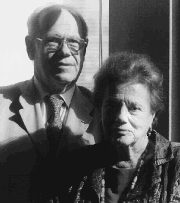 <! ________________________________________________________________________________>