! CONCORDIA'S THURSDAY REPORT ON-LINE> <! Oct 21, 99 Issue> <! Site Designede and Developed by: S. Mehrad B.Eng. For comments and problems contact: technical@mehrad.qc.ca> <! http://www.mehrad.qc.ca>



<! ________________________________________________________________________________>
Centraide: A good deal for all
Over the next month, you're going to hear a lot about Centraide, the umbrella organization that raises money for more than 250 Montreal-area social agencies.
As a citizen, you should be grateful that Centraide exists, because it's so cost-effective. By doing virtually all the fundraising for so many organizations, Centraide saves them the money and time they would have to expend on fundraising ventures of their own.
It's cost-effective in another, more important way: the prevention of social problems. Mark Branch, a 1981 Concordia alumnus and executive director of the Lasalle Youth Centre, gave the university's campaign captains a striking set of numbers at their launch session last week.
He said it costs about $200 a year to help a child with after-school programs and recreation -- but it costs between $25,000 and $75,000 a year to look after a young person who is incarcerated because they got into trouble.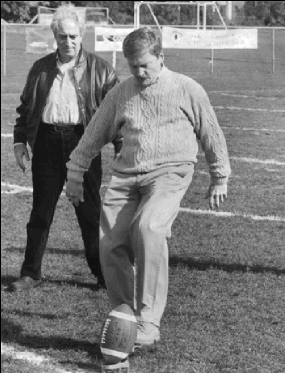 "What are the most dangerous hours in a child's day?" Branch asked. "Between 3 and 6 o'clock, because neither the school nor their parents are responsible for them then."

At the Lasalle Youth Centre (Centre des Jeunes de Lasalle), Branch and his staff, supplemented by dozens of volunteers, get the children to sit down and do their homework. Then they can cook or play outside, under supervision. The Centre operates on an annual budget of $266,000, of which $103,00 comes from the annual Centraide campaign.

This year's campaign at Concordia is co-chaired by Marie-AndrŽe Robitaille and Bill Curran. They say the goal should be to increase Concordians' participation, not simply to drive up the total.

Last year, our participation rate went up from about 9 per cent to about 12 per cent, but it could be much higher. The easiest way to give is through a payroll deduction. That could be as little as $1 per paycheque -- the cost of a cup of coffee, and only $52 for the year-- or it could be much more. Between 85 and 88 per cent of the money raised goes to the recipient agencies; the rest pays for the campaign.

You'll get a pledge card in the internal mail during the week of October 25. Please don't cast it aside until you have read the material thoroughly. If you have any questions or would like to see who your team captain is, consult the Concordia Centraide Web site at http://centraide.concordia.ca/

- Barbara Black

Photo: It's a far cry from his usual duties as Concordia's Director of Libraries, but Bill Curran gives it the old college try, as Rector Fred Lowy looks on. The co-chair of this year's Centraide committee kicked off last Saturday's game to publicize the university's campaign.

<! _______________________________________________________________________________>




Copyright 1999 Concordia's Thursday Report.