! CONCORDIA'S THURSDAY REPORT ON-LINE> <! Oct 21, 99 Issue> <! Site Designede and Developed by: S. Mehrad B.Eng. For comments and problems contact: technical@mehrad.qc.ca> <! http://www.mehrad.qc.ca>



<! ________________________________________________________________________________>
Students help to build Concordia

At the ceremonial closing of the Capital Campaign on October 1, third-year Journalism student Divine Agodzo was chosen to make the announcement of the total.
He delivered his opening words in Akan, a native language of his homeland, Ghana, and continued, "The Real World is not as big a place as we sometimes think. We, the students of Concordia University, come from all over the globe. We speak dozens if not hundreds of languages, not just English and French. We come from myriad cultural backgrounds and religious creeds. Whether we are strolling through the peaceful green spaces of the Loyola Campus or negotiating the bustling hallways of Sir George, we have one thing in common -- we chose Concordia.
"From as far away as Africa, I was drawn to the journalism program because of Concordia's reputation for excellence in training journalists who are not just reporters of news, but informed and thoughtful interpreters of current events.
"I was one of the students who made the follow-up calls to solicit thousands of alumni of Sir George Williams University, Loyola College and Concordia University. What was most striking to me was [their] stories of pride and of gratitude.
"My role as a phone-mail caller obliged me to learn about the whole university, and in particular its world-class standards in such diverse areas as accountancy, computational fluid dynamics, digital imagery and multimedia, behavioural neuroscience, bioinformatics and Jewish studies. These are just a few examples of areas of study where Concordia is doing research and providing training that places us at the forefront of an international stage.
"As a student, I am also proud to say that I am a donor. The collective contribution of the student body represents $9 million out of the total [of more than $77 million]."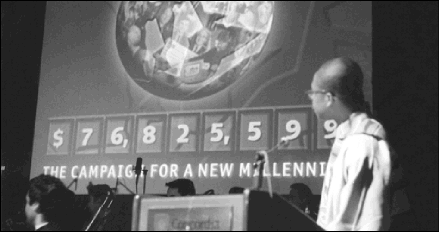 Student Divine Agodzo announces what was then the grand total; an anonymous donor, however,

sent the final tally past the $77 million mark.

<! _______________________________________________________________________________>




Copyright 1999 Concordia's Thursday Report.