! CONCORDIA'S THURSDAY REPORT ON-LINE> <! Oct 21, 99 Issue> <! Site Designede and Developed by: S. Mehrad B.Eng. For comments and problems contact: technical@mehrad.qc.ca> <! http://www.mehrad.qc.ca>



<! ________________________________________________________________________________>
Documentary bridges nature and art
by Denise Roig
---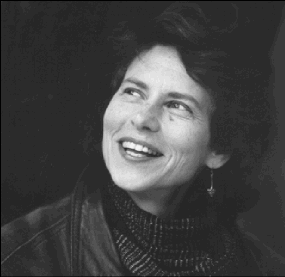 Having been cinematographer on some 50 films, Marielle Nitoslawska is certain of one thing. Sky Bones, her latest documentary, couldn't have been made inside the film industry. "I would have heard questions like, Will this sell on TV?" said the head of Concordia University's Film Production program.

An evocative 50-minute film about Quebec artist Domingo Cisneros, Sky Bones defies categorization. "People ask, Is this a film about art or about nature? Is it about man versus nature? Is it about life and death?" Yet it's this amorphous quality that makes the film interesting, she believes.

It's also not market-driven, Nitoslawska said. "As one of the best schools in Canada, it's our mandate to encourage and nourish precisely this kind of work, so that the opportunity to make non-commercial films can continue." She calls Sky Bones "a real Concordia University story," and is grateful for the chance to make her film "exactly the way I wanted to make it."

The story began in the early 1990s with a telephone conversation with Cisneros. A visual artist born in Mexico, he had spent 25 years living in a remote area of the upper Laurentians, and had become a force in the renaissance of Native culture in the 1970s. "Domingo was one of the first to say, Moccasins are great, beads are fabulous, but what are we going to do as contemporary Native artists?"

The filmmaker, who earned a BFA from Concordia in 1976 and an MFA from the Polish National Film School in 1984, hit it off immediately with Cisneros. "Domingo had been to Poland. I'd been spending time in Mexico. He kept saying, 'You must come up!'" Their rapport continued over four years of filming, editing, mixing and fundraising.

Nitoslawska began shooting in Mexico in the summer of 1994 with the help of a faculty research grant. Later, money from the National Film Board and the Canada Council allowed her to shoot in Quebec, often without a crew. Nearly eight months were spent finding the right tone for the soundtrack, as she worked with Michel Grzelak, a colleague in the Film Department's sound section.

The sense of being inside nature, as well as being inside the head of an artist, dominates Sky Bones. The visuals do the telling: images of water, sky, fire and forest wash over the viewer, insistent, dream-like. The ever-shifting landscape serves as a mirror for Cisneros' highly original installations of bones and furs, skulls and stones.

Part artist, part writer, part shaman, Cisneros says in the film, "The forest is my studio, my gallery, my museum." The same might be said of Nitoslawska. She recalls sitting in a boat in the Laurentians and looking down at pieces of wood floating by. "You see something wonderful, and suddenly you're shooting. There was always room for that magical thing to happen."

She's aware of how difficult it is for a film like Sky Bones, unconventional, in three languages, to reach a general audience. So far, it has been enthusiastically received at the Vancouver Film Festival, and was one of the films chosen for the opening of Montreal's newest art film theatre, Ex-Centris. Nitoslawska has also shown it to several of her classes, where it provoked lively discussion.

Sky Bones will be shown at the Cinˇmath¸que Quˇbˇcoise on November 4 at 9 p.m.

<! _______________________________________________________________________________>




Copyright 1999 Concordia's Thursday Report.