! CONCORDIA'S THURSDAY REPORT ON-LINE> <! Oct 21, 99 Issue> <! Site Designede and Developed by: S. Mehrad B.Eng. For comments and problems contact: technical@mehrad.qc.ca> <! http://www.mehrad.qc.ca>



<! ________________________________________________________________________________>
Taking art to the people of St. Jérôme
by Michelle Rainer
---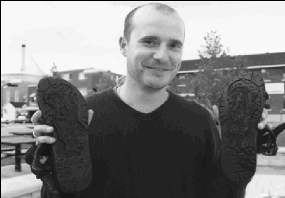 When Fine Arts professor Bonnie Baxter was invited to participate in Mythologie des Lieux, an international symposium on contemporary art, she decided to make it a collective project involving students.
"When you're out in the community and working in a real-life experience, it's never quite the same as what you can read about, or what you learn within the university," Baxter said, who teaches print media in the Studio Arts Department.
The theme of the symposium, which ran from September 11 to 26, was the creation of a mythology based on place. The group -- Baxter, Concordia grad Pierre Pellerin, undergraduate Clark Ferguson and graduate students Michelle Bush and Patrick Visentin -- decided to focus on St. Jérôme, about an hour north of Montreal.
St. Jérôme, population 25,000, was once touted as a potential industrial centre, but the promise of prosperity never materialized. As a nod to St. Jérôme's one-time prominence on the railway, the group dubbed their venture TCHOU, as in choo-choo train.
The members of TCHOU went door-to-door around St. Jérôme offering to do push-ups in exchange for old shoes, an ice-breaking stunt that allowed them to meet members of the community and gather material for their project at the same time.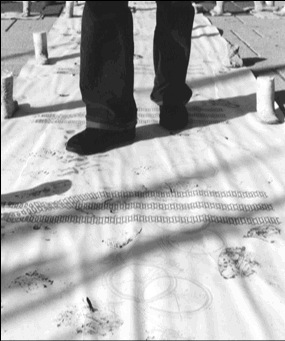 They carved designs based on the theme of transportation into the soles of the shoes, making them into wearable stamps. Then they embossed intricate prints of bicycles, railway tracks and train signal towers onto huge rolls of paper donated by local pulp and paper mill Papier Rolland Inc. Finally, they spread the rolls out alongside the old tracks in the centre of town, set out a few pans of paint, and invited the people of St. Jérôme to put on some shoes and make their mark.
About 280 people came throughout the week to add to the project, chat about their families and the history of the community, or ask about the symposium, sponsored by Fondation Derouin. Collective member Visentin said that meeting the people was the best part of the project.
"Usually when you're making art, it's a one-way street -- you're making it and they're viewing it," he said. "One of the great things about this project is that the people participated. We learned a lot about each other." The students also learned how to plan a project, run a symposium and participate in a press conference.
The event culminated on Saturday, September 25, with a night-time parade and "burning ceremony." About 1,000 people joined the artists as they marched their works, which included a wooden ship and a four-metre-high model of the Empire State Building, through the streets.
Then, as the city's firefighters stood by, the artists burned most of the pieces they had taken so long to produce. They hope they have created a new legend for the town, making the night part of St. Jérôme's collective memory. As Visentin explained, watching the works going up in flames around him, "You have to destroy the record to create the myth."
Bonnie Baxter, who masterminded this public art project, is one of a group of women artists who are taking part in a symposium on November 4 called Public Art as Social Intervention - But Now I Have to Speak: Testimonies of Trauma, Transformation and Change. You can find out more by visiting their Web site: http://design.concordia.ca/publicart
Photo (above right): Patrick Visentin holds up discarded shoes that had designs on the theme of transportation carved in the soles. <! _______________________________________________________________________________>



Copyright 1999 Concordia's Thursday Report.