! CONCORDIA'S THURSDAY REPORT ON-LINE> <! Oct 21, 99 Issue> <! Site Designede and Developed by: S. Mehrad B.Eng. For comments and problems contact: technical@mehrad.qc.ca> <! http://www.mehrad.qc.ca>



<! ________________________________________________________________________________>
Fine journalist leaves teaching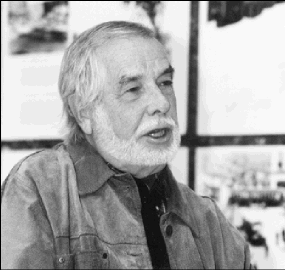 The teaching career of James Stewart, a respected figure in Canadian journalism, was warmly celebrated last week by his students and colleagues at a reception given by The Gazette.

Jim's retirement from Concordia ends a link with the past. He started teaching only a year after the Journalism program was founded by David Oancia in 1974. At the reception, Chair Enn Raudsepp described that first year as "23 students, one class and 18 typewriters in an annex on Mackay."

Raudsepp went on to describe Stewart as "the quintessential thinking man's journalist, more cerebral than most political reporters." An outstanding teacher, he was always available to students and for committee work. He took a hiatus of several years, but returned to teaching, despite a busy career as a senior political reporter for both the Montreal Star and then The Gazette.

Senator Joan Fraser, who was editor when Stewart was an editorial writer at The Gazette, praised him at the reception as "an acute observer." Over his career, he covered Ottawa, London and Quebec City, was president of the parliamentary press gallery, and wrote a book about the FLQ crisis.

At 71, Stewart still keeps his hand in, writing the weekly seniors column and doing occasional book reviews for The Gazette, most recently of Reed Scowen's Time to Say Goodbye. He is also a member of the editorial board of Concordia University Magazine, published by Alumni Affairs.

<! _______________________________________________________________________________>




Copyright 1999 Concordia's Thursday Report.