! CONCORDIA'S THURSDAY REPORT ON-LINE> <! Oct 21, 99 Issue> <! Site Designede and Developed by: S. Mehrad B.Eng. For comments and problems contact: technical@mehrad.qc.ca> <! http://www.mehrad.qc.ca>



<! ________________________________________________________________________________>
Book Fair raises $7,300 to feed needy students
The third annual Concordia Volunteers Book Fair took place September 6 and 7, and earned at least $7,300 for Campus Ministry's Emergency Food Voucher Program. Barbara Barclay, who conceived and organized the fundraiser, wants to thank the many people who helped make it such a success:
* The Concordia community -- students, faculty, staff, alumni, and friends -- who were so generous in donating and buying books.
* Vice-Rector Charles Emond, who made available his resources, including Pat Pietromonaco and his team of strong men -- Gaston Boulanger, Gerry Barrett, and all the others, including gentle giant Dave Batten.
* [Bookstores Manager] Lina Lipscombe, for so many brand new books, and for the expertise of her crew, particularly Gisele Duplantis and Susanne Dragffy; the volunteers from the Library, Helen Eng, Boi May Ang, Faye Corbin and Kathryn Barkman, who really showed us how things should be done; and Miriam Posner (Chemistry and Biochemistry). Thanks to the Concordia Student Union and Meloche Monnex for making the cloth book bags.
* Finally, thanks to those who worked so hard this summer and last week at the sale: from Campus Ministry, Peter C™tŽ, our new chaplain Ellie Hummel and David Eley; from the Pensioners Association (CUPA), Dawn Johnson, June Duncan, Elaine Bruce and Gabrielle Murphy; from the SGW Alumni Association, David Brown, Susan Hawke and Jannine Barrette-Kerby; from the TESL program, Don Peck, Wanda Antonopoulos, Janine Malloy, Barbara Verity and Bruce Peterson; from Environmental Health and Safety, Christine Sidhom; and from the Friends of Concordia, Daphne McKergow.
Daryl Lynn Ross, of Campus Ministry, adds a word:
I'd like to add a word of thanks on behalf of Campus Ministry, as well as on behalf of all the students who come to see us in difficult and sometimes desperate situations, to Barbara Barclay and the others.
This is a very immediate and concrete way of helping out students who are under terrible pressure due to rising costs for education, insufficient loans and bursaries and lack of employment opportunities.
At Campus Ministry, we have seen an increased need in the last few years for the emergency assistance we provide. Every dollar given to the Student Emergency Food Fund goes entirely to provide food for students.
Donations are already being accepted for the Fourth Annual Concordia Used Book Fair in October 2000. Contact Barbara Barclay at 848-2449.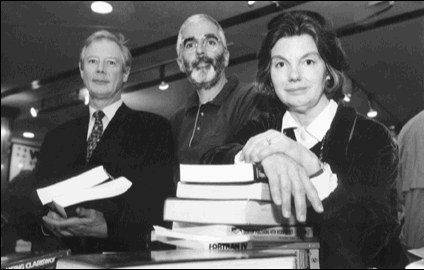 Surrounded by books on the Hall Building mezzanine are volunteers David Brown (Advancement), Peter C™tŽ (Campus Ministry), and Barbara Barclay (TESL Centre).

<! _______________________________________________________________________________>




Copyright 1999 Concordia's Thursday Report.