! CONCORDIA'S THURSDAY REPORT ON-LINE> <! Oct 21, 99 Issue> <! Site Designede and Developed by: S. Mehrad B.Eng. For comments and problems contact: technical@mehrad.qc.ca> <! http://www.mehrad.qc.ca>



<! ________________________________________________________________________________>
Concert Hall celebrates Oscar Peterson
by Anita Grace
---
The room was filled to its 570-seat capacity last Saturday night as Concordia paid tribute to jazz legend Oscar Peterson by naming its concert hall in his honour.
The internationally acclaimed artist, born and raised in St. Henri, was visibly touched by the tribute.
"I've gone through so many different phases in my career, in the swirl and radiance of the spotlight, I haven't had the time to realize how much people in my home town think of me," he said in a deep voice filled with emotion. "There isn't anything that could ever take away from me this moment in my life."
The renaming ceremony was introduced by Vic Vogel, veteran bandleader and a longtime friend, who played several short numbers on the piano.
A quartet comprising pianist and Music Professor Wray Downes, bassist Dave Young, guitarist Richard Ring and drummer Michel Lambert played several numbers chosen for their associations with the 74-year-old guest of honour.
The new nameplate for the concert hall was unveiled to thunderous applause. Peterson paid tribute to his sister, the legendary piano teacher Daisy Sweeney, who was in the audience. Without her, he said, "I would not be sitting here tonight."
He also thanked his wife Kelly and eight-year-old daughter Celine for their love and care, which he said saved his life after his stroke two years ago.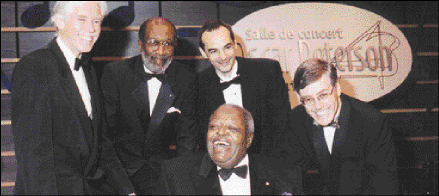 As the concert hall exploded once more in applause, Celine stood with beaming eyes and mouthed "thank you" to her dad. Peterson smiled broadly, his eyes shining, and blew her a kiss.
The gala naming ceremony was hosted by Dean of Fine Arts Christopher Jackson, and Rector Frederick Lowy, Charles Ellison and alumnus Ken Druker spoke. Mayor Pierre Bourque and MNA Russell Copeland, among many others, were present. The guests entered the concert hall by walking through a tent, in which a student jazz band was playing. After the ceremony, a reception was held in the lobby, and since the weather was fine, guests spilled out into the tent.
A plaster cast of Peterson's hands on display in the lobby attracted admiring attention. It is for a bronze sculpture being created by well-known artists Mark Prent, a technician in the Faculty of Fine Arts, and Fran¨ois Cloutier.
There was a press conference with Peterson on Saturday, which was attended by a number of international journalists, and a private luncheon at the Rector's residence on Sunday.
Photo: From left to right are musicians Dave Young, Wray Downes, Michel Lambert and Richard Ring with guest of honour Oscar Peterson (center).
A few words from Oscar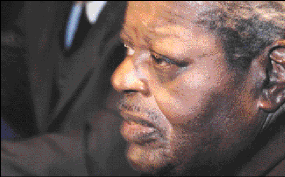 Oscar Peterson met the press at a session held at the Ritz Carlton Hotel on Saturday afternoon. Here are some of the questions, and his answers.
Q: What is jazz?
A: Jazz is instant composition. Jazz musicians are the greatest mathematicians.
Q: What is your greatest achievement?
A: Keeping trios and quartets in the foreground of music after the big band era.
Q: What is your opinion of Montreal as a jazz city?
A: It was a great city when I was young and starting out, with places like the Alberta Lounge and musicians like Steep Wade. Then the nightclubs began to feature "shake dancers" and strippers. It lost something.
On the harshness of critics: "Any artist from any city needs to know that the community is behind them. Young artists need to be encouraged, not raked over. Don't bruise a young talent. Give the plant a chance to grow and yield its first flowers."
- Paul Serralheiro <! _______________________________________________________________________________>



Copyright 1999 Concordia's Thursday Report.