! THURSDAY REPORT ON-LINE> <! 11/19/98 Issue> <! By: S. Mehrad B.Eng. For comments and problems contact: technical@mehrad.qc.ca> <! http://www.mehrad.qc.ca>
<! ________________________________________________________________________________>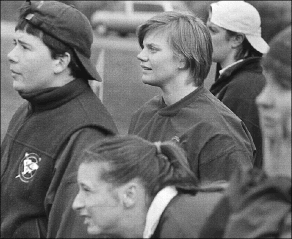 by Derek Cassoff
---
If Sheila Turner has one regret about her rugby experience at Concordia, it was that she never had the chance to play in a national championship.
It's not that Turner's teams weren't skilled enough. The Stingers didn't lose a single game during her three-year stint at the University from 1992 to 1994. But while they won the provincial crown each of those seasons, there was no national university championship for Canada's top women's rugby teams.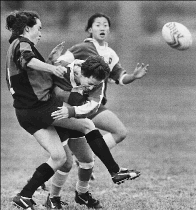 "It was disappointing," said Turner, who graduated from Concordia in the spring of 1995 with a degree in exercise science. "After coming in first in our league every year, it would have been nice to have compared ourselves to the rest of the country."
Fast-forward nearly four years. The Stingers are once again champions of the Quebec University Rugby League, thanks to a hard- fought 12-8 win over their arch-rivals, the McGill Martlets.
Only, this time, the Stingers had the chance to showcase their talents in front of a national audience, taking part in the Canadian Interuniversity Athletic Union's inaugural women's rugby championship, held last weekend at McMaster University in Hamilton. Unfortunately, though, the Stingers finished fourth, losing to British Columbia 27-20 in the bronze-medal game.
Turner, 25, had a big hand in getting the Stingers to the nationals, this time from the sidelines as the team's head coach. After taking a year away from the University, Turner rejoined the Stingers as an assistant coach in 1996, months after the once-proud dynasty stumbled through a one-win season. She was named head coach the following season.
Armed with a mix of experienced veterans and young talent, the team won six of its seven league games, including the title match against McGill. They outscored their opponents by a 184-28 mark.
"We have a lot of skilled players and a few experienced girls at key positions," Turner said. "And these girls don't give up, even when they're down. They come out hard with a lot of determination."
"After the '94 season, a lot of the girls graduated, and those of us who were left couldn't hold the team together," said Dia Hurtubise, a fifth-year fly-half who made her Stingers debut during Turner's final season as a player. "But since then, everybody has come back each year, and we've been improving and learning the game."
With the team's renewed success and the CIAU's new-found respect for women's rugby, Turner says she has had a hard time turning back the temptation to regain her college eligibility by enrolling in graduate courses.
An exercise therapist working with the physically and intellectually handicapped, Turner satisfies her rugby appetite by playing in the summer with the Montreal Barbarians and as a member of Quebec's all-star team.
"Playing for Concordia was one of the best experiences of my rugby career, but [returning to the team] wouldn't be the right thing to do," she said. "There are a lot of younger girls who have worked hard for this opportunity."


<! _______________________________________________________________________________>