! THURSDAY REPORT ON-LINE> <! 11/19/98 Issue> <! By: S. Mehrad B.Eng. For comments and problems contact: technical@mehrad.qc.ca> <! http://www.mehrad.qc.ca>


<! ________________________________________________________________________________>
Of Note
<! ________________________________________________________________________________> <! ________________________________________________________________________________>
---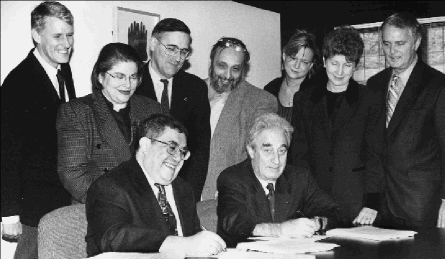 CUFA, the Concordia University Faculty Association, signed their collective agreement with the University on November 12. The contract runs until May 31, 2002. Photographed signing the document are CUFA President Morton Stelcner and Rector Frederick Lowy. Standing behind them are Jerry Tomberlin (member of the University's negotiating team), June Chaikelson (CUFA), Ted Stathopoulos (University), Harvey Shulman (CUFA), Geneviève Robichaud (CUFA professional officer), Joy Bennett (Director of Academic Institutional Relations) and Vice-Rector Institutional Relations/Secretary-General Marcel Danis.
---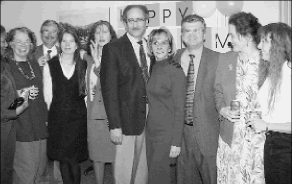 A retirement party was held on October 29 in recognition of Hélène Rowe's 31 years of service. Since starting here in 1967, Hélène spent 19 years with Computing Services and 12 years in the Faculty of Engineering and Computer Science, first in the Dean's Office, and then in Student Affairs. She is in the centre, with Dean Nabil Esmail on her right.
---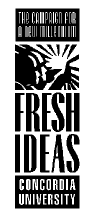 Capital Campaign total to date:
$ 47,376,513
---
3,500 fans turned out for both days of interrupted game
Next stop, Halifax -- Vanier Cup in sight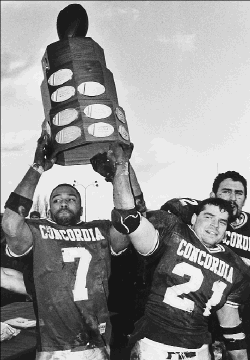 The Stingers head to Halifax this weekend to play the Acadia Axemen in the Atlantic Bowl, and you can see the game at noon on Saturday on sports television channels TSN and RDS.
The team beat the Bishop's Gaiters on November 7. The following Saturday, they played the Laval Rouge et Or in a game on their home field. The game had to be stopped because of darkness and resumed the following day -- but they won 17-12 and came away with Dunsmore Cup. Head coach Pat Sheahan was named O-QIFC Coach of the Year.
The winner of next Saturday's game goes on to the big one, the Vanier Cup, to be played at Toronto's Skydome on Saturday, November 28. If you want to send the Stingers some support in Saturday's game at the Saint Mary's Huskies Stadium, you can fax them at the Westin Nova Scotian Hotel, (902) 422-9465.
Do you want to support them in person? Board the fans' bus to Halifax on Friday night -- the more passengers, the lower the fare and the louder the celebration. For details, call Janet Corrigan right away, at 848-3857.
In other sports news, congratulations to the men's soccer team, who had an excellent season. They were defeated in the Quebec final by UQAM, and coach Vladimir Pavlicik was named QSSF Coach of the Year.
Congratulations also to alumnus Otis Grant (BA 93), who fought last weekend in the U.S. against the man being called the best boxer in the world. It took light heavyweight Roy Jones Jr. 10 rounds to defeat Grant, now a counsellor at Lindsay Place High School in Pointe Claire. - BB <! _______________________________________________________________________________>

Copyright 1998 Concordia's Thursday Report.