! CONCORDIA'S THURSDAY REPORT ON-LINE> <! Nov. 18, 99 Issue> <! Site Designede and Developed by: S. Mehrad B.Eng.> <! For comments and problems contact: technical@mehrad.qc.ca> <! http://www.mehrad.qc.ca> <! also:> <! http://www.software-farm.com>



<! ________________________________________________________________________________>
Students hold protest
Hundreds of Concordia students boycotted their classes November 4 and 5, and marched through the streets, clashing with police on at least two occasions.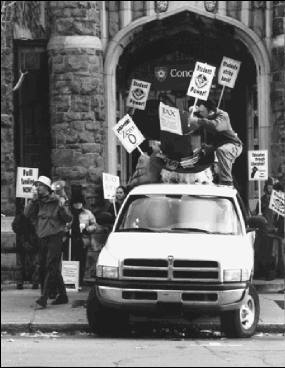 Their protest covered a broad spectrum of grievances: government cuts to education, administrative fees, student debt, Marriott food services, and the encroachment of corporations through campus advertising, financial donations, and representation on the Board of Governors.
The protest was sparked by the strong endorsement of a referendum sponsored by the Concordia Student Union (CSU). The turnout for the vote on October 26-28 was a good one by Concordia standards -- 2,284 participants, about 10 per cent of the total number of students.
Most students continued to attend classes as usual, but a memo circulated by Provost Jack Lightstone well before the walkout instructed pr ofessors not to schedule important tests on the days of the strike, nor to take sanctions against students for missing class.
The first clash with police happened on November 3. After a general assembly attended by about 450 students in the Henry F. Hall Building auditorium, the students, joined by others, marched to McGill, where they were turned away. A crowd broke through a police line at Ste. Catherine St., and two police officers were slightly injured.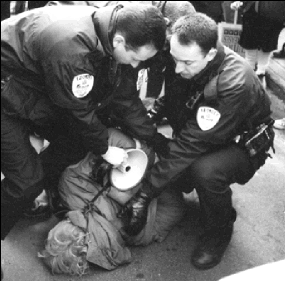 The following day, two CSU protesters, Tom Keefer and Rick Stom, were arrested for refusing to stop using a megaphone. (See photo at left)

Also on November 4, protesters prevented the 46 employees of Bishop Court from entering their offices. The building, which houses most of the senior administration, was closed for the day (photo at right). Rector Frederick Lowy met with the protesters during the strike.

For more on students' concerns, see Senate Notes.

- Barbara Black

<! _______________________________________________________________________________>




Copyright 1999 Concordia's Thursday Report.