! CONCORDIA'S THURSDAY REPORT ON-LINE> <! Nov. 18, 99 Issue> <! Site Designede and Developed by: S. Mehrad B.Eng.> <! For comments and problems contact: technical@mehrad.qc.ca> <! http://www.mehrad.qc.ca> <! also:> <! http://www.software-farm.com>



<! ________________________________________________________________________________>
New clout for university galleries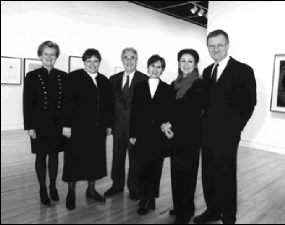 Concordia's elegant Leonard and Bina Ellen Art Gallery was the setting for the announcement November 4 of the newly formed Association of Quebec University Art Galleries.
At a well-attended reception, the rectors of the three founding member institutions explained why they have joined forces to lobby for funding and other resources. Above, from left, are Paule Leduc (Rector of UQAM), Johanne Brouillet (Director of the Galerie du Centre Culturel de l'Université de Sherbrooke), Rector Frederick Lowy, Karen Antaki (Director of the Leonard and Bina Ellen Gallery), Louise Déry (Director of the Galerie de l'UQAM), and Pierre Reid (Rector of the Université de Sherbrooke).
The current show at the Ellen Gallery is of new acquisitions to the permanent collection. <! _______________________________________________________________________________>



Copyright 1999 Concordia's Thursday Report.