! CONCORDIA'S THURSDAY REPORT ON-LINE> <! Nov. 18, 99 Issue> <! Site Designede and Developed by: S. Mehrad B.Eng.> <! For comments and problems contact: technical@mehrad.qc.ca> <! http://www.mehrad.qc.ca> <! also:> <! http://www.software-farm.com>



<! ________________________________________________________________________________>
Rise of the indies: Interviews with Hollywood outsiders
by Mark Reynolds
---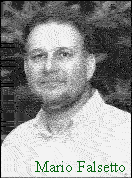 Mario Falsetto loves film. A boyish enthusiasm for the medium practically bubbles out of him when he speaks about his latest project, Personal Visions: Conversations with Contemporary Film Directors.
Professor Falsetto, who teaches at Concordia's Mel Hoppenheim School of Cinema, interviewed dozens of filmmakers from around the world on the nature of their profession.
"I had an ideal reader in mind, someone 17 years old and living in a small town in Canada or the United States, who would read this and get inspired," he said.
Falsetto explained that while independent cinema is becoming more and more popular, very little has been written about it. The book, which includes interviews with Terence Davies, Alan Rudolph and others, is also aimed at students of film, and anyone who takes an interest in the medium.
"I spent a year thinking about who I wanted to contact and researching their films, and then I sent out about 60 or 70 letters." Just reaching these busy people was a challenge, and Falsetto was impressed with the energy they devoted to their art.
Falsetto would research each director, view his or her work, transcribe the interviews, and then arrange with the filmmakers to see if there was anything that they felt should be added to their answers. "[Irish director] Neil Jordan took out all the [crap]," he laughed.
Falsetto is grateful that he could complete the project with the support of grants from Concordia, and a sabbatical year, including a three-month trip to London. He interviewed directors here in Montreal, and in New York, London, Toronto, Los Angeles and Dublin.
Falsetto stresses that the book is not just about these directors' best-known films; it traces their development as filmmakers. "Most interviews do not attempt to cover an artist's entire body of work, and this is an important aspect of my book," he said.
With Atom Egoyan's TheSweet Hereafter competing with Titantic for Oscars, and Richard Linklater's Slacker seen as the cinematic signature of Generation X, independent film is enjoying an unprecedented importance in the movie industry.
However, it would seem that though everybody is making independent movies lately, "no one knows what the term means." As Falsetto points out, many films that are seen as independent have often either been financed by or distributed by large studios.
"They seem to be able to co-opt anybody," said Falsetto of the studios. "American Beauty is the first film by this theatre director Sam Mendes, but it's financed by some of the biggest names in Hollywood."
Mario Falsetto's Personal Visions: Conversations with Contemporary Film Directors, has just been published in Britain by Constable Press, and in North America by Silman-James Press of Los Angeles. It will be released early next year. <! _______________________________________________________________________________>



Copyright 1999 Concordia's Thursday Report.