! CONCORDIA'S THURSDAY REPORT ON-LINE> <! Nov. 18, 99 Issue> <! Site Designede and Developed by: S. Mehrad B.Eng.> <! For comments and problems contact: technical@mehrad.qc.ca> <! http://www.mehrad.qc.ca> <! also:> <! http://www.software-farm.com>



<! ________________________________________________________________________________>
Tracking the elusive woman artist
by Debbie Hum
---
Mary Cameron, Christina Patterson Ross and Georgina Greenleaves are not names that Janice Helland expects to ring any bells.
These Scottish painters are just a few of the fine, but not famous, women artists of the 19th century that the professor of Art History uncovered over four years of methodical research. The culmination of her investigation will be published next spring in her second book, Professional Women Painters in Nineteenth-Century Scotland.
At the start of this year, Helland was named a Concordia Research Fellow. At the inaugural research lecture on November 8, Dean of Graduate Studies and Research Claude Bˇdard introduced her somewhat ruefully; over the summer, Helland was stolen away by Queen's University, where she now teaches art history and women's studies and is a Queen's National Scholar.
Helland's search for the work of Scottish women artists began while she was on sabbatical in Edinburgh in 1995. Going through 19th-century Scottish newspapers, Helland found that art exhibition reviews mentioned women artists in huge numbers, but included no pictures or paintings of their work.
Near the end of her leave, Helland met an elderly Scottish woman whose mother had known Christina Patterson Ross. She was very enthusiastic about Helland's research. After much discussion and arguing, Helland accepted the gift of a Christina Patterson Ross painting, which now graces her dining room.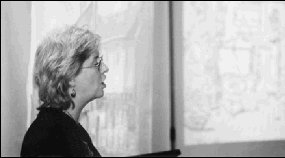 "I wanted her to give it to a museum, but she wouldn't, because she said it would only be put into storage, which is unfortunately true," Helland said in an interview after the lecture. "She said she wanted me to have the picture because I was working on Ross and truly appreciated her work."
Helland returned to Scotland every subsequent summer, visiting numerous galleries and combing through archival material from the Royal Scottish Academy, the Glasgow Institute of the Fine Arts and the Glasgow Society of Lady Artists, among others. She cheerfully described going into the storerooms of museums as a nightmare.
In many cases, all Helland could find were thumbnail sketches or drawings of the paintings. At the National Art Library in London, she came across "a real find," hand-drawn reproductions of paintings by Mary Rose Hill Burton in the margins of an 1895 exhibition sales catalogue.
Despite tremendous difficulty, and with diligent help from her research assistants, Concordia graduate students Janice Anderson, Heather Haskins, Caroline Stevens and Elaine Cheasley, Helland managed to locate some actual paintings. Most of the paintings are in private collections, she explained, and turning them up was pure serendipity. "Someone who knew I was working in the area would have an aunt with a painting and I would get to see it."
During a six-month sabbatical this year, Helland spent eight weeks in Scotland, London and Ireland completing her research. Helland's first book, The Studios of Frances and Margaret Macdonald (1996), was lavishly praised for its meticulous research. In her latest contribution, Helland elaborates upon the life and working conditions of middle-class artists by discussing their work in terms of economic and social history.
The Scottish women artists were often overlooked in favour of other issues of middle-class working women. They were considered amateurs who lacked seriousness and were often excluded from artists' associations and exhibitions. Exclusion from life classes at the Royal Scottish Academy, as well as the desire for a place for women to work, live and sell their paintings, led to the formation of the Edinburgh Ladies' Art Club in 1882.
"Their voices were heard where their pictures were seen," Helland said. She hopes Professional Women Painters will flush out some of the paintings in private collections. <! _______________________________________________________________________________>



Copyright 1999 Concordia's Thursday Report.