! CONCORDIA'S THURSDAY REPORT ON-LINE> <! Nov. 18, 99 Issue> <! Site Designede and Developed by: S. Mehrad B.Eng.> <! For comments and problems contact: technical@mehrad.qc.ca> <! http://www.mehrad.qc.ca> <! also:> <! http://www.software-farm.com>



<! ________________________________________________________________________________>
Using art as a healing force
by Michelle Rainer
---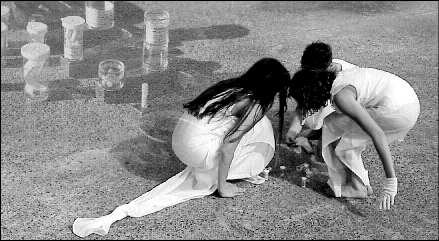 A moment from pharmaKon, a performance art work by Design Art Professor P.K. Langshaw on women and depression.

Six years ago, Jennifer Waters was raped at knife-point.

"When it happened, I didn't expect to ever feel normal again. I certainly didn't expect that I'd be as happy as I've been since," said the 26-year-old graduate of Concordia's visual arts program, "but I also didn't expect that six years later, it would be in my head every single day. Not the actual thing of it happening, but just there. Always, always, always."

Waters was just one of the artists, educators and social workers who attended a conference titled Public Art as Social Intervention: But Now I Have to Speak, held at the Henry F. Hall Building from November 5 to 9. The conference explored violence against women and the ways in which art can act as a healing force for those who have experienced trauma.

"Part of it is the validation of the experience by actually documenting it and having people see it," explained Waters, who was recently in Chicago to exhibit work based on her assault. "Part of it is having to talk about it when people see it. Both on a personal level and on an artistic level, it's been a really good tool for me."

The many seminars, workshops and presentations held throughout the weekend gave Waters and other participants even more to think about, as artists from across North America and as far away as Germany shared their work on women and trauma.

An exhibition called Flight, prepared by Concordia graduate students Cynthia Hammond and Katja MacLeod Kessin, features art works by former residents of Auberge Transition, a shelter for battered women. It is on view at the Maison de la culture NDG until December 4. During the symposium, Bonnie Baxter's undergraduate students mounted an exhibition in the VAV Gallery, and MA in Art Education student Susan Sinkinson curated a series of video screenings.

The weekend opened on the Friday night with a dinner and round-table discussion featuring guest speakers Stephanie Golden, Jan Haaken and Suzanne Lacy, as well as conference organizers P.K. Langshaw, Devora Neumark and Loren Lerner.

The panel discussed women's cultural, economic and personal experiences with violence, and offered insight on how empowering it is to be able to express yourself.

Langshaw then presented her work, pharmaKon, a meditation on women's experiences with depression. The performers, dressed in institutional white, read short stories dealing with different perspectives on depression, such as that of an anorexic teenager. After a brief video, the audience was handed "text pills," tiny scrolls of paper rolled into gel caps and held in a prescription bottle, as a statement on our readiness to medicate women who don't conform to society's expectations.

On Saturday, keynote speaker Suzanne Lacy discussed how the public has become desensitized to violence against women.

"I'm constantly amazed at how our media continue to churn out over and over again amazing violence, and then wonder why people are killing each other," she said. She added that in the U.S., battery is the most common form of injury among women, more common than accidents, rapes and muggings combined.

One of the first American artists to bring violence against women to public attention, Lacy is known for huge public installations that make the female experience something that everyone can relate to.

During her speech, she gave a brief video retrospective of her work, showing moving footage of art's ability to heal. One of her projects was particularly memorable. Lacy went to a maximum-security women's prison in New York State. She convinced the prison authorities to let her bring in three old cars, which the women turned into sculptures etched with their experiences with violence.

"The women expanded the metaphor," Lacy said. "They began to tell us some of the things that had happened to them in cars." Some of them had been raped in automobiles. One of them had been chased by a car with no headlights.

One of the cars was bulldozed into a mangled wreck, but another was turned into a symbol of hope, restored to pristine condition and decorated with pictures of the women's children, a testament to the healing power of art.

<! _______________________________________________________________________________>




Copyright 1999 Concordia's Thursday Report.