! THURSDAY REPORT ON-LINE> <! 18/03/99 Issue> <! Site Designede and Developed by: S. Mehrad B.Eng. For comments and problems contact: technical@mehrad.qc.ca> <! http://www.mehrad.qc.ca>



<! ________________________________________________________________________________>
Out on the ice with the perch eyeballs
by Barbara Black
---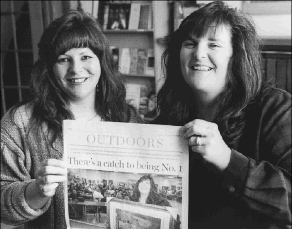 Kim Hicks had a whole page to herself in the National Post last week. She and her husband Gordon Hicks were competing in the Canadian Ice Fishing Championships at Sutton, an hour north of Toronto, and Gordon buttonholed a reporter, saying "You should talk to my wife. She's going to win again."
Sure enough, for the second year in a row, Kim was named top female ice-fisher; that's the painting she won in the photo above. Her team, which includes her husband, missed the top prize of $10,000 by a whisker -- "half a perch," as the Post put it -- but they will represent Canada at the world championships next year.
The Hicks are very serious about this sport, which involves drilling holes with an auger, setting lines with perch eyeballs and maggots as bait, and watching a hole in the ice for hours. (In fact, the Post writer facetiously wrote, "Kim is a very genuine, nice person who is also obviously crazy.")
Gordon ice-fishes seven days a week, just because he loves it. On the weekends, the couple drive to frozen lakes all over Quebec and Vermont. Quebec spots can be pretty crowded, but "some places in Vermont, you'd think you were in Alaska."
Kim works three-quarters of the year in Concordia's Institute for Co-operative Education, but in June, July and August, she and Gordon run a charter salmon fishing fleet on Lake Ontario out of Oshawa. It's a sophisticated operation, taking five clients out on six- or 15-hour trips with plenty of electronic back-up.
They started their business in 1990, and it is doing well. Kim says her husband, who grew up in Verdun, fishing on Lake St. Louis, taught her everything she knows. "I think he has gills somewhere," she laughed.
She likes working at Concordia, and is grateful for the flexible work arrangements. "We get to make a living at what we love to do." <! _______________________________________________________________________________>



Copyright 1999 Concordia's Thursday Report.