! THURSDAY REPORT ON-LINE> <! 18/03/99 Issue> <! Site Designede and Developed by: S. Mehrad B.Eng. For comments and problems contact: technical@mehrad.qc.ca> <! http://www.mehrad.qc.ca>



<! ________________________________________________________________________________>
AIDS activist Janet Conners fights on
by Véronique Jouhaud
---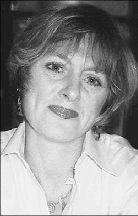 AIDS activist Janet Conners spoke to an audience in the Concordia Concert Hall recently about living under the threat of AIDS. She told them that the epidemic is far from over.
"Even though the number of AIDS deaths has dropped and some people continue to respond to the protease inhibitor, the infection rate continues to climb," she said.
The euphoria of the mid-1990s, when a cure seemed to be just around the corner, has disappeared. "National AIDS strategy experts are speaking in terms of bringing this epidemic under control, not stopping it," she said. "Researchers are only speaking now of delaying death, not curing people or eradicating the virus."
AIDS education seems to be levelling off, she said, yet every minute, six young people somewhere in the world are infected with HIV, which is likely to kill them.
Conners, 43, of Dartmouth, N.S, has been HIV-positive for 10 years. She looks healthy now, but she had full-blown AIDS in the mid-1990s, and has experienced side effects from the medication. She is well known across Canada for battling with her late husband Randy for a provincial compensation package.
According to her research, only 50 per cent of persons with AIDS can tolerate the so-called combination drugs. These drugs are so expensive, she added, that only people in developed countries have access to them. In countries with no universal health care, they are only available to the rich or insured.
"I don't want to make it sound like I'm unhappy about the new drugs having been available," Connors said. "I was thrilled. It did delay my death. I saw my son graduate from high school. I've been able to be well and be fairly healthy, but the epidemic is not over. There is no effective treatment."
The harsh reality of AIDS first entered her life in 1986 when her husband, a severe hemophiliac, contracted HIV through a blood transfusion. At the time, he was told there was very little chance, about 25 per cent, that he would ever develop AIDS. Physicians believed that gay men were the ones developing the disease, Conners said. Randy died in 1994 after fighting off several bouts of AIDS-related pneumonia.
She became infected in 1989 even though she and Randy were practising safe sex (she believes she got infected after a condom broke), and doctors had been telling them that she was probably immune.
At the time they were diagnosed, little was known about the virus, and a strong stigma surrounded AIDS. Not much was known about women and AIDS, except that the time from diagnosis to death was about six months.
She and her husband realized in the early 1990s that the authorities were at fault for delaying the screening of blood products for HIV. They successfully lobbied the Nova Scotia government for a compensation package for the province's hemophiliacs and secondarily affected victims like herself.
Their efforts were partly responsible for the federal government's Krever Commission, an inquiry into the Canadian blood distribution system that led to collection being taken out of the hands of the Red Cross.
Conners' lecture was part of the Concordia University Community Lecture Series on HIV/AIDS. <! _______________________________________________________________________________>



Copyright 1999 Concordia's Thursday Report.