! THURSDAY REPORT ON-LINE> <! 18/03/99 Issue> <! Site Designede and Developed by: S. Mehrad B.Eng. For comments and problems contact: technical@mehrad.qc.ca> <! http://www.mehrad.qc.ca>



<! ________________________________________________________________________________>
A first taste of investigative journalism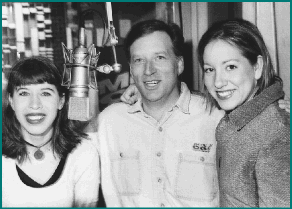 Fledgling reporters want to get into print or on the air, especially with a story they developed themselves. Last month, two interns at Mix96 achieved that goal.
Caroline Phaneuf and Adrienne Baker did some investigative reporting that was broadcast on Mix96
and its sister station, CJAD, during their recent ratings period, when radio stations compete hard for
listeners.
Baker actually went undercover to do her story, working in a telemarketing "room" in Old Montreal. "Most of the other telemarketers were about 15 years old, and very friendly," Baker said. "They told me how it worked."
The scam was to sell orders for a $250 catalogue from a Nevada firm that Baker found was non-existent. Mix96 news director Rick Moffat interviewed her on the air about her story, and the FBI have been alerted to the operation.
Some reporters would love the prospect of going undercover, but Baker didn't. "It was awful. I felt guilty," she admitted.
Phaneuf's story took so many months to develop that it became something of a joke around Mix96 until it finally came together. As an unpaid intern working part-time at the station, she happened to pick up the phone when a woman called to complain about being harassed by prison guards on conjugal visits with her husband at the federal detention centre at Cowansville.
Covering the story was difficult, and involved using the Access to Information Act. Phaneuf discovered that many similar complaints are made to Corrections Canada, though very few are ever acknowledged and fewer still are backed up, as this one was, by complainants who are willing to be taped. She developed her story into a five-part series of reports.
Both stories are being entered in a competition for Mix96 bursaries. The station gives annual bursaries, internships and a scholarship through its Nick Auf Der Maur Memorial Fund.
For the young reporters, their experience working at the station has been invaluable. Baker didn't like radio class much until she started working at CJAD, and now wants to pursue a career in broadcasting.
Phaneuf holds down a full-time job at Ogilvy and full-time Journalism studies as well as volunteering at the station. She's doing a double major in Political Science and Journalism, and her dream is to work at the United Nations.
- BB <! _______________________________________________________________________________>



Copyright 1999 Concordia's Thursday Report.