! THURSDAY REPORT ON-LINE> <! 18/03/99 Issue> <! Site Designede and Developed by: S. Mehrad B.Eng. For comments and problems contact: technical@mehrad.qc.ca> <! http://www.mehrad.qc.ca>



<! ________________________________________________________________________________>
Journalism lecturer studied Hollywood North -- Vancouver and environs -- for his thesis
On the way to a doctorate
by Heidi Klaschka
---
The road to academia has many points of entry, including one for self-confessed high school partyers who have turned serious.
Along the way to becoming a PhD in Communication Studies and Journalism lecturer, Michael Gasher failed a couple of grades during high school, but found work afterwards as a sports reporter for six newspapers, including the Vancouver Province.
Gasher grew bored with sports writing, quitting the Province in 1985 to begin studying full-time. "After covering the '84 Olympics, everything else became repetitive. I wanted to do something that mattered," he said.
He began to study the Canadian film industry during the free-trade debates of the late 1980s. At the time, he didn't consider filmmaking in British Columbia to be "real" cinema because the films shot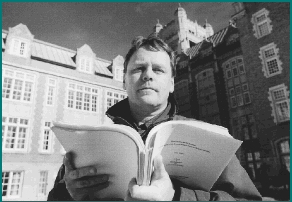 in B.C. were almost always financed from and set somewhere else.
Vancouver is often referred to as "Hollywood North." The New York Times calls it "the city that can sub for all of America." Gasher recalled that one American film, Rumble in the Bronx, clearly showed Vancouver's North Shore mountains in the background of the Bronx. "It was so cheesy," he laughed, "it had to have been done deliberately."
Gasher eventually stumbled upon films that were conceived, shot and set in B.C., such as My American Cousin and The Grey Fox. His PhD thesis, The Grey Fox Meets Jumanji: The Emergence of the Feature-Film Industry in British Columbia, explores the concept of place in cinema. He successfully defended it last January.
For Gasher, it isn't an issue that Hollywood misrepresents Vancouver. He thinks local cinema and Hollywood can co-exist; for him, the B.C. film industry belongs to both Hollywood and the Canadian film industry. The issue is how people conventionally tend to think of cinema in national terms. Filmed in Canada? A Canadian film. Filmed in Ireland? An Irish film. In his thesis, Gasher argued this framework is woefully inadequate.
"Cinema is made of both local regional production and transnational production," he explained. For example, "B.C. offers a beautiful location and cheap labour, but most of the creative elements are done in Hollywood."
Gasher doesn't think film should be necessarily tied to location for other reasons, as well. In his first chapter, he asserts, "Women's cinema, black cinema and queer cinema do not [necessarily] share a geographical locale."
The globalization of film production has also affected how film production is taught. Gasher described Vancouver Film School, which, although a product of the "Hollywood North" mentality, gives students the opportunity to tell their own stories locally.
"Teenagers can imagine themselves making films," he explained. "It just wasn't a viable option before; they had to move to Hollywood."
However, the federal government is considering abolishing an 11-per-cent tax deduction currently being offered to foreign film corporations for using Canadian labour. Gasher is worried about the potential impact the abolition would have on the B.C. film industry.
"[It] will definitely diminish Canada's competitive edge," he said, "and B.C. will be harder hit than Ontario and Quebec." British Columbia is Canada's largest film production centre; it had more than $800 million in film and TV production in 1998.
Although Gasher still spends time pondering the Canadian film industry, he won't be jetting off to B.C. to make any films or heading back to the newspaper industry, either. His future will be largely academic. UBC press is interested in publishing his thesis, he's co-authoring a book with his MA supervisor, and he has an interview for a tenure-track position in the Journalism Department later this month. Not bad for someone who avoided books in high school. <! ______________________________________________________________________________>



Copyright 1999 Concordia's Thursday Report.