! THURSDAY REPORT ON-LINE> <! 14/01/99 Issue> <! By: S. Mehrad B.Eng. For comments and problems contact: technical@mehrad.qc.ca> <! http://www.mehrad.qc.ca>


<! ________________________________________________________________________________>
Of Note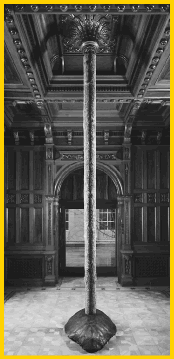 Linden/Tortue: 1998,
an installation by Fine Arts Professor Irene F. Whittome, now on view at the Canadian Centre for Architecture as part of an exhibition called Departure for Katsura. Whittome, together with art historian Laurier Lacroix, was moved to create the exhibition by images of a 17th-century imperial villa near Kyoto, Japan. The show includes items from the CCA's permanent collection, plus three large installations, of which this is one, strikingly set off by the ornately carved tearoom of the original Shaughnessy House, now part of the CCA. The turtle bearing a tree trunk is an image from a Hindu myth; Whittome is drawn to the turtle, and often uses turtle imagery in her work.
Concordia Student Services
In-course bursary:
Bursaries are awarded on the basis of financial need and high academic standing. They have been made possible through the generosity of benefactors to the University.
Available from the Financial Aid and Awards Office, SGW Campus, McConnell Building, L-085, and from the Dean of Students Office Loyola Campus, AD-121.
Deadline: Tomorrow, January 15.
Administrative fee bursary:
This month, the University introduced an administrative fee to be invested in instruction and information technology at Concordia. The University is sensitive to the fact that some students may be adversely affected by this fee. Consequently, it has established a special bursary program for a limited time to help graduate and undergraduate students in need. Application forms are available at
Financial Aid and Awards or the Dean of Students Office (see above). Completed forms may be returned to the Birks Student Service Centre, LB-085 or AD-121. Deadline: February 5 for this semester.

Bowling for dollars
The annual Bowlathon, organized by the Association of Alumni Sir George Williams University, was a success as always, raising $4,295 for scholarships and generating a lively afternoon at Paré Lanes on November 21. Seen here are, in the back, Anthony Bertucci, Stephen Alves, Peter Weber, Brenda Fewster, and in the front, Elaine Arsenault (president of the Concordia University Alumni Associations) and Liliana Gomez.
One-woman show at Reggie's Pub
Everyone Wants to be Mary Magdalene is the name of a one-woman show by third-year Theatre Performance student Brandy Yanchyk. If you missed it last summer at the Montreal Fringe Festival (where Brandy was declared "the find of the Fringe" by Hour), you have two chances to catch it tomorrow, at 4 and 8 p.m. at Reggie's, in the Henry F. Hall Building.
Mary Magdalene was the biblical bad girl whose soul was saved, and Yanchyk says that to some extent, she identifies with her. She has fashioned a quirky hour of theatre that promises, in her words, "redemption and chutzpah."
Her performance, exactly one hour long, is sponsored by the Concordia Student Union. Admission is by donation at 4 p.m., and $5 at 8 p.m.
Ice chips
International tournaments are nothing new for members of Concordia's women's hockey team. The recent Christmas break proved no exception, as four Stingers spent part of the holiday competing in Europe.
Canada's entry at the under-22 Christmas Cup won a gold medal, thanks in part to forward Corinne Swirsky and rookie defender Sue Kaye.
Swirsky, voted the outstanding female player in Canadian university hockey a year ago, scored seven goals and picked up three assists during the four-game tournament in Unna, Germany, and two exhibition wins in Switzerland.
Stingers assistant coach Julie Healy was a member of the Team Canada coaching staff.
Stinger defender Amy Coelho, a native of North Truro, Mass., played for the U.S. national team at the Three Nations Tournament in Finland. The Americans split their four games to finish second to Canada in what is considered a precursor to the World Championships in March.
"It was a great experience, especially that first time you walk into the locker room and see the sweaters hanging there with your country on the front," Coelho said.
IBM supports Native Access to Engineering
On December 15, Concordia's Native Access to Engineering program held a reception to celebrate the contributions of the many volunteers and supporters who have made its first five years so successful.
The evening featured the introduction of the program's new Circle of Advisors and the presentation of a cheque for $20,000 from its first major corporate sponsor, IBM. For a five-year period, IBM will donate $50,000 and provide expertise for educational programming.
Seen in the photo, left to right, are Professor Corinne Jetté, founder of the program, with Alfred Loon of the Cree Regional Authority, and Laurie Harley of IBM.
During the evening, the Native Access to Engineering Web site was unveiled and plans for the program's next phase of operation were announced. The new phase will build on current activities and take the program to a wider audience, thanks to the Internet. One of the first projects will be a comprehensive guide to undergraduate engineering education in Canada.
While the Web site is still under construction, members of the Concordia community are invited to take a look at www.nativeaccess.com
<! _______________________________________________________________________________>

Copyright 1998 Concordia's Thursday Report.