! THURSDAY REPORT ON-LINE> <! 14/01/99 Issue> <! By: S. Mehrad B.Eng. For comments and problems contact: technical@mehrad.qc.ca> <! http://www.mehrad.qc.ca>


<! ________________________________________________________________________________>
Lobster Press takes on stay-at-home dad's guidebook for families
MBA courses lead to a local bestseller
*ohn Symon, a stay-at-home dad with three small children, has used some of the things he learned in his Master's of Business Administration program to publish and market a local bestseller.
The Lobster Guide to Exploring Montreal with Kids, published by Lobster Press of Montreal, has been on TheGazette bestseller list for many weeksnow, and was number one in its category for a while.
An attractive book, sensibly organized for the harried user, it ranges from such well-known attractions as the Biodôme and the Canadian Railway Museum to out-of-the-way places to go snow-tubing, pick apples and strawberries, pet animals and sing karaoke.
"The guidebook has been about four years in the making," Symon said. It grew out of the family's own exploration of Montreal. Symon is from British Columbia, and his wife Patricia is from the United States, so they have no relatives here with whom to park their growing brood.
"We were forced to find interesting family outings around Montreal, and kept on trying new places to go. The guidebook started as a pile of notes we used so we could remember details about these sites," Symon explained.
"We belong to many different circles of friends that bridged the two solitudes and other schisms. Before living in NDG, we lived to the east of St. Lawrence Blvd. and learned to speak French. My wife has worked in several different places in the greater Montreal area. We were also lucky to learn about many places to take kids while two of our children attended the Garderie des p'tits profs on the Loyola Campus of Concordia.
"A course I took on entrepreneurship encouraged me to self-publish the book. After taking courses on new-product development, I saw ways to improve it. Another course I took on market research showed me ways to go out and gauge reaction to some early, self-published versions."
Symon had been printing his book at a local photocopy shop, but after about six months, Lobster Press bought the rights to the manuscript.
"This publishing house has done a great job of packaging and promoting the book," Symon said. "I'm happy to hear lots of people tell me they use the Lobster Guide and like it. I'm also glad that many of the places described in the Guide are receiving more publicity, because some of them are only marginal economically."
Symon has been doing an MBA at Concordia on a part-time basis since 1992. "Once my wife gets home from work, I kiss her goodnight and run off for evening classes." It's a routine many families can identify with.
- BB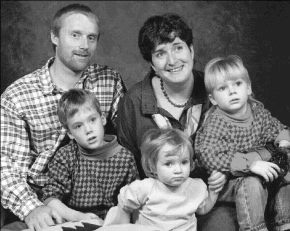 Author John Symon with his wife, Patricia Symon, and David, 6, Clayton, 4, and Anna, one-and-a-half.
<! _______________________________________________________________________________>

Copyright 1998 Concordia's Thursday Report.