! THURSDAY REPORT ON-LINE> <! 13/05/99 Issue> <! Site Designede and Developed by: S. Mehrad B.Eng. For comments and problems contact: technical@mehrad.qc.ca> <! http://www.mehrad.qc.ca>



<! ________________________________________________________________________________>
Artists run amok in derelict St. Denis building
Ingrid Bachmann is back, and she's full of great ideas. The Studio Arts professor, who has just returned from three years as visiting artist at the Art Institute of Chicago, transformed a St. Denis St. rooming house slated for major renovation into a working art gallery last weekend.
The show drew a huge crowd to its narrow halls and tiny courtyard -- an estimated 2,500 visitors over the weekend. Called 48 Hours/48 Rooms, the exhibition made innovative use of an unusually challenging space, as about 60 local artists, including Concordia students, claimed individual rooms for installations and performances.
There were rooms of vibrant colour, rooms papered with text, rooms studded with twigs, rooms filled with mysterious voices and snatches of music. One room was filled with wood shavings; another was entirely lined, including its several pieces of furniture, with flowered fabric.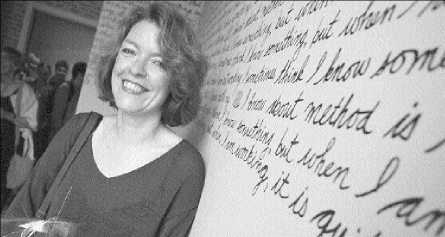 Open a door, and you never knew what you'd find -- maybe a life-sized plaster bear on its hind legs in what used to be a bathroom. One door remained closed, but through its spy-hole, you could see a video of someone industriously taking a bath.
One of the most popular pieces was a giant chandelier that virtually filled the room, on which hung hundreds of little objects. The floor was made up of soft, stained mattresses -- the very mattresses on which recent tenants of these rooms had slept.
The ghostly presence of these tenants, who must have been desperately poor, informed the work of many of the artists, Bachmann said. They also were inspired by the confined spaces. "So many exhibition spaces are open and empty," she said.
Bachmann conceived the idea when developer Aldo Corviello, of Aldo Construction, approached her to do a mural, and instead, she suggested that the artists have free rein. He obligingly postponed his project to gut the building for new condos.
"It's so good to be back in Montreal," Bachmann said with enthusiasm. "I could never have done this in Chicago."
Bachmann, who became a tenure-track faculty member this year, is coordinator of the Fibres area in Studio Arts. Her own contribution to the 48 Hours show was a "seascape" -- a tiny plastic ship travelling across the room on an undulating length of cord, with a backdrop of blue sea and lighter sky. The effect is of a struggling craft braving a vast, tossing ocean.
- Barbara Black <! _______________________________________________________________________________>



Copyright 1999 Concordia's Thursday Report.