! THURSDAY REPORT ON-LINE> <! 13/05/99 Issue> <! Site Designede and Developed by: S. Mehrad B.Eng. For comments and problems contact: technical@mehrad.qc.ca> <! http://www.mehrad.qc.ca>



<! ________________________________________________________________________________>
26th annual year-end screenings showcase Concordia talent
Films show that Cinema students are going places
by Eugenia Xenos
---
We see two profiles, of a man and a woman, staring intently at something outside our field of vision. Their heads are shaking slightly, almost imperceptibly. As time goes by, we see more and more of this blank-faced couple, and we realize they are on stationary bicycles, facing a poster of professional cyclists racing on a tilted cycling surface on an otherwise blank wall.
The camera tracks out some more, and we see a third stationary cyclist, heavier than the two scrawny people at the front. Everyone stares ahead, uncommunicatively, at the poster. As light retro music plays on in the background, the guy at the rear picks himself up off the bicycle seat, and begins to pump hard on the pedals, as if he were striking out to pass the two in front of him.
This priceless irony was part of a five-minute film called Picture Yourself Going Places, by Olivier Laberge, shown during the three-day year-end film screenings of Cinema students last week.
Another student had a voice-over of Dr. Seuss's Oh, The Places You'll Go! providing narrative to the grungy existence of two young people (98 3/4 Percent Guaranteed), and another examined the life of a card shark who dreams of Gene Kelly's finesse; when his life starts unravelling, he starts singing and dancing in the streets (Three-Card Monte).
"Going places" is an apt conceit for the talented students in the Film Production, Film Studies and Animation programs. Their predecessors include Peter Wellington (Long Day's Journey into Night), Lynne Stopkewich (Kissed), Arto Paragamian (Cosmos) and actor Pascale Bussi¸res and cinematographer André Turpin (Un 32 aout sur terre). Despite sometimes onerous working conditions, Concordia film students have earned a reputation for producing high-quality, prize-winning work.
The students presented a skit to open the screenings, cracking jokes about their low budgets ("Astrophysicists say that nothing is the best thing ever"), spoiled shots ("Students can argue, when the shadow of a cameraman makes it onto the film, that the director spent 12 hours getting it there"), and deteriorating equipment ("Editing machines can double as smoke machines").
The 26th year-end screenings included more than 50 non-fiction, narrative, experimental, animation and live-action works from first-, second- and third-year students. Film industry representatives were on hand to present awards to deserving students, as were Dean of Fine Arts Christopher Jackson, Associate Dean Kathleen Perry and several faculty members. Mel Hoppenheim, after whom the School of Cinema is named, was also on hand to give out awards; he pledged to help upgrade the facilities.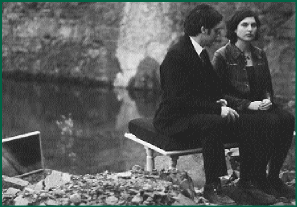 Graduating student Stéphanie Jasmin, who won the coveted Mel Hoppenheim prize for excellent work in all three years, is going to use her prize money to make a final copy of her film so she can enter it in film festivals. "The films you see at the screenings are usually working copies that we've actually spliced together. The sound and the images are on different reels, but making a final 'answer' copy (which contains both sound and images on one reel) is expensive, and many students don't do that unless they are going to present their work at film festivals."
Her film, Route en Provence, was a searching, introspective, slightly abstract examination of the difficulty of communicating, set against an impressionist backdrop. "It's a look at the differences between what we see and think, and what we actually say, as illustrated by interior and exterior landscapes," said Jasmin, who has a background in art history. She used Cézanne's painting Route en Provence as the catalyst of a woman's journey through three of her relationships.
Another student, Karolina Jonsson, who won a Dean's Award for excellent work in all three years, paid tribute to the artwork of a Fine Arts student from Switzerland, Raphael Imer, who died in a bus accident last fall. The Fossil Bird looked at his self-portraits, which were accompanied by the ever-spiritual music of
Arvo Part.
The 26th annual year-end screenings were held in the Alumni Auditorium in the Henry F. Hall Building from May 4 to 6.
Photo: A scene from Route en Provence, by Stéphanie Jasmin, in which a couple delve into their relationship with the help of a detail of the Cézanne painting of the same name. <! _______________________________________________________________________________>



Copyright 1999 Concordia's Thursday Report.