! THURSDAY REPORT ON-LINE> <! 13/05/99 Issue> <! Site Designede and Developed by: S. Mehrad B.Eng. For comments and problems contact: technical@mehrad.qc.ca> <! http://www.mehrad.qc.ca>



<! ________________________________________________________________________________>
Design Art students reach the lunchtime crowd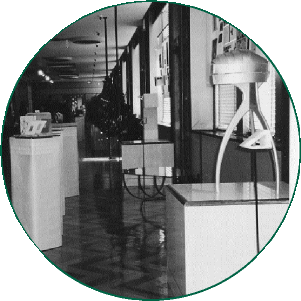 This year's graduating class in Design Art achieved a major breakthrough by staging their show in the gallery on Eaton's ninth floor, adjacent to its famous restaurant.
As a result, they got a lot more attention than if they'd been in a conventional students' space, not only from the 200 to 300 shoppers who use the restaurant every day, but from influential people in industry and education.
Lindsay Salady was offered $400 for his glass and acrylic chess set, for example, and several other students sold their work. Two students, Genevi¸ve Bˇlisle and Chrissy Cheung, have been offered a year's internship in Milan, Italy, a designers' mecca.
Design Art Acting Chair Lydia Sharman gave her 25 students all the credit for finding the new venue and creating an exhibition space that accorded well with the restaurant's Art Deco style. It showed the pieces to advantage, featuring suspended display boards and freestanding plinths.
The Design Art program emphasizes ecological values, and many of these pieces were witty inventions with recycled materials. Vanessa Robinson's elegant chair got a lot of double-takes -- it was made entirely of wire coat-hangers. As well as his chess set, Lindsay Salady submitted a hammock called "It's a good year to retire." It was made of Goodyear inner tubes.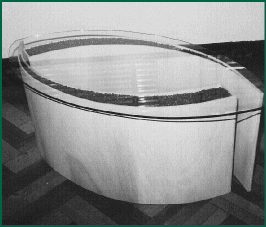 The students participate every year in SIDIM, the Salon International du Design d'Intérieur de Montréal. Fourteen third-year students had their submissions to the eco-design section accepted, and several were accepted into the Institut de Design Montréal's inter-university competition. - BB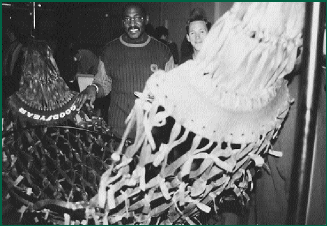 Photos: Students designed their own exhibition space opposite the big Art Deco restaurant on the downtown Eaton's ninth floor (top left). Other photos, Vanessa Robinson's chair made of coat hangers, a coffee table with inlaid rows of real coffee beans by Amélie Chartrand, and Lindsay Salady with his inner-tire hammock. <! _______________________________________________________________________________>



Copyright 1999 Concordia's Thursday Report.