! THURSDAY REPORT ON-LINE> <! 13/05/99 Issue> <! Site Designede and Developed by: S. Mehrad B.Eng. For comments and problems contact: technical@mehrad.qc.ca> <! http://www.mehrad.qc.ca>



<! ________________________________________________________________________________>
Teaching art in the wider community
by Sylvain-Jacques Desjardins
---
In an effort to offer students the best possible preparation, a research team from Concordia's Art Education program are conducting a wide-ranging study of their changing job market.
While art educators have traditionally worked in schools in the past, an increasing number of these professionals have begun teaching art in community centres, pre-schools and seniors' residences.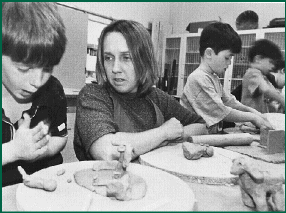 Photo : Art Education student Janette Haggar teaches at a children's art class at Dollard-des-Ormeaux's busy Recreart facility.

The Concordia Community Art Education Research Group was launched three years ago to assess how best to prepare students for these environments and what modifications would need to be made to the 30-year-old Art Education program. The study is being conducted by six faculty members and students, including Professors Paul Langdon, Linda Szabad-Smyth, Professor Emeritus Leah Sherman and MA student Janette Haggar.

"Over the last few years, our program has been changed and enlarged as many of our graduates began working in the community, as opposed to schools," Langdon said. "With this study, we are able to further examine what distinct skills art educators need to work in the community."

The team has been busy establishing contacts with community organizations to place students for internships and interviewing art educators working in the community. "We're finding that community art educators need to develop entrepreneurial and marketing skills to find work," Sherman said, noting future course offerings will be altered to address these needs. "When people were teaching [art] in schools, it was very structured and they knew what was expected of them," she said. "Teaching in the community is very different."

Community art educators are now having to create their own jobs themselves by proposing art programs to community groups. "Our study has also highlighted that art education is something new to many community centres," Szabad-Smyth said, "and many of these groups would like to offer art education but just don't know how to go about it."

That's where community art instructors come in. Their job is to tailor art programs to meet the specific needs of the community they are serving. Through their study, Szabad-Smyth said, the researchers have found that creating an art curriculum for a group of disadvantaged youth, for example, requires a different approach than teaching art at a woman's centre.

Haggar, a mature student who has worked as a community art educator for 15 years, taught an introductory Art Education course at Concordia this semester. She said that teaching art in the community is very different from working in an academic setting.

"You have a lot of flexibility when teaching in the community and freedom to try new things," she said. "You actually get to teach only art, unlike in schools, where you're lucky if you can integrate art into the curriculum."

But teaching art in the community does have its drawbacks. "Job security is nil and most of it is part-time work," she said. "It also takes a lot of energy and motivation to teach in the community." However, Haggar has managed to establish a name for herself in western Montreal and currently has contracts with a variety of community organizations like Dollard-des-Ormeaux's Recreart, where she teaches residents of all ages.

As the research team continues their study, using people like Haggar as examples, they are finding that art education can be integrated into a host of community settings, offering an untapped source of work to graduates. "People of all ages can use art education," Sherman explained,
"Art is something that can help people find self-fulfillment and enrich their lives."

<! _______________________________________________________________________________>




Copyright 1999 Concordia's Thursday Report.