! THURSDAY REPORT ON-LINE> <! 13/05/99 Issue> <! Site Designede and Developed by: S. Mehrad B.Eng. For comments and problems contact: technical@mehrad.qc.ca> <! http://www.mehrad.qc.ca>



<! ________________________________________________________________________________>
$1.25 M gives boost to technology project
by Barbara Black
---
The J.W. McConnell Family Foundation has awarded Concordia a grant of $1.25 million for an innovative project on how computers can best be used to enhance learning.
The project was developed jointly for the Campaign for a New Millennium by the Centre for Teaching and Learning Services (CTLS), the Centre for the Study of Learning and Performance (CSLP) and Instructional and Information Technology Services (IITS).
The funds will finance a three-year pilot project to train faculty members to integrate information technology into their teaching, to make them mentors to their colleagues throughout Concordia, and ultimately, to communicate what is learned to the Canadian academic community.
Heather MacKenzie, Assistant Director of the CTLS, said the project and the lessons that will be learned from it are likely to give teaching greatly enhanced status at the University and put Concordia in the forefront of Canadian university pedagogy.
MacKenzie was full of enthusiasm for her subject. In fact, she was interviewed in the midst of an international conference sponsored by the American Educational Research Association, and had just come back from a conference in Orlando on the evaluation of teaching.
The project will provide training, infrastructure and support to faculty to integrate computer-based communications technologies into their courses. It will carry out assessment, evaluation and improvement of pedagogical strategies as to how this technology is used, and provide support for the students using it. Finally, the results of the project will be disseminated to the Canadian university community.
About 45 faculty associates will be selected to participate in the project, and their courses chosen with a view to benefiting as many faculty and students as possible. In time, these faculty members will become mentors to others. MacKenzie hopes the funds will extend to hiring technical assistants for these classes.
"We've done a lot of research in preparation for this project," she said, "and it all points to the centrality of instructional design. Technology is supposed to empower learning, to be well-thought-out and flexible, and to support the academic mission."
Taking an exploratory approach to technology also fits in perfectly with Concordia's mission as a university that is both accessible and innovative.
The J.W. McConnell Family Foundation is one of Canada's largest philanthropic organizations, and has been a generous supporter of Canadian education for many years.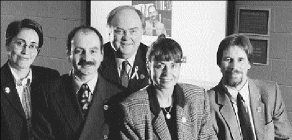 Celebrating the J.W. McConnell Family Foundation grant to Concordia for a technology-pedagogy project are, from left, Heather MacKenzie (Assistant Director, Centre for Teaching and Learning Services), Provost Jack Lightstone, Chris Hyde (Associate Vice-Rector Institutional Relations/Director of Advancement), Olivia Rovinescu (Director, CTLS), Professor Richard Schmid (Chair, Education). <! _______________________________________________________________________________>



Copyright 1999 Concordia's Thursday Report.