! THURSDAY REPORT ON-LINE> <! 13/05/99 Issue> <! Site Designede and Developed by: S. Mehrad B.Eng. For comments and problems contact: technical@mehrad.qc.ca> <! http://www.mehrad.qc.ca>



<! ________________________________________________________________________________>
Students will use educational psychology text this summer
Concordia professors write Canadian edition of psychology textbook
It's not very often that "Concordia University" is printed, not once but twice, on the title page of a textbook destined to be used by thousands of students across Canada.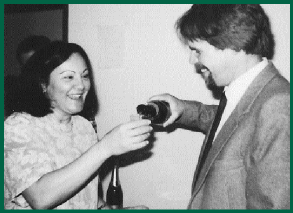 However, that will be case with the first Canadian edition of Psychology Applied to Teaching, much of which was written by Education Professors Richard Schmid and Miranda D'Amico.
The book, by Robert F. Biehler and Jack Snowman, of Southern Illinois University, is among the most popular texts with universities across North America. As it was reissued in successive editions (it is in its eighth) over the years, it became more and more overtly American.
Schmid, who is Chair of the Education Department, said that "this became increasingly irritating to students," and made the need for a Canadian edition apparent.
Schmid and D'Amico undertook the task. While the basic principles of educational psychology remain the same in this version, the language, examples and research base were overhauled. Their contributions include a rewriting of the text relating to government policy -- education is a federal responsibility in the U.S., but a provincial affair, with all the attendant confusion, in Canada -- and the substitution of Canadian for American examples.
There is also a feature called Cases in Print, which gives excerpts from Canadian newspaper stories to show how education issues are played out in the political and social arena. The Canadian authors put recent Canadian education research, such as that done by their Concordia colleague Professor Philip Abrami, front and centre.
Psychology Applied to Teaching is published by Houghton Mifflin, which has done a first press run of 5,000 copies. In their preface, the Canadian authors thank former Education Technology graduate student Anna Barrafato, who gave invaluable assistance to the project as a research assistant.
Most of the groundbreaking work in educational psychology was done in the first half of this century by such giants in the field as Jean Piaget and Erik Erikson, who defined how children learn, and B.F. Skinner, the father of behaviouralism.
However, Schmid said, the past 20 years have brought major changes to the ambience of the classroom, as teacher-centred instruction gave way to student-centred learning. This was due partly to the humanistic, anti-authoritarian wave that swept North America in the 1970s, but also to the deluge of available information made possible by the computer.
Now, more than ever, teachers are devoted to teaching students how to retrieve their own data and assess issues for themselves. The emphasis is now on learning to learn, problem-solving, and the transfer of learning to particular situations.
About 600 students take the introductory course in Educational Psychology every year at Concordia. Forty students a year are accepted into Concordia's program to train elementary school teachers. They will start using this book within weeks, as the summer session gets under way.
Ð Barbara Black <! _______________________________________________________________________________>



Copyright 1999 Concordia's Thursday Report.