! CONCORDIA'S THURSDAY REPORT ON-LINE> <! January 13, 2000 Issue> <! Site Designed and Developed by: S. Mehrad B.Eng.> <! For comments and problems contact: technical@software-farm.com> <! http://www.software-farm.com>



<! ________________________________________________________________________________>
MBA Case Competition teaches many skills
by Barbara Black
---
Are they pleased with themselves? "We're going around with grins like Cheshire cats," said Anna Vera Kratochvil triumphantly. "Tired Cheshire cats."
She and colleagues Ken Lee and Michel Nassif were putting the finishing touches on the Concordia MBA International Case Competition, in full swing right now at the Queen Elizabeth Hotel.
The three students won the right last fall to organize the big annual competition, which brings teams of students from business schools around the world to Montreal to go head-to-head on real-life business problems. The organizing tasks and a thesis they will write afterwards are worth six academic credits.
There was a lot to do. They had to find appropriate cases, actual business dilemmas that had not yet been published. The 30 cases they found were carefully vetted by an external advisory board, and a scant half-dozen were chosen. They lined up corporate sponsors for the lunches, cocktails and other events over the five days of competition. They drummed up volunteer aides from among their fellow students, and they recruited the large numbers of local executives who voluntarily judge the contest.
"There are 321 judges on our database, and we need 75 a day," Kratochvil explained. The judges enter into proceedings with enthusiasm, on the lookout for new business strategies and promising young MBA graduates. Last year, the "live case," an annual feature, was presented by an executive from Bombardier. Afterwards, he gave the team with the winning presentation a free ride in the helicopter whose fate they had been debating.
Thirty-one universities and business schools are represented in this year's competition. Last year's winners indicate how widely they range geographically: ESAN, Peru, came first, the University of Tennessee second, and the University of Otago, New Zealand, third. New participants this year are the European Business School, based in Germany, and the Monterey Institute of International Studies, from California.
Teams compete one-on-one in a round-robin until the winners are left standing and their award is presented at the banquet Saturday night. It's not all cut-throat competition, though. Visitors packed a few extras into their suitcases for a masquerade party on Friday night.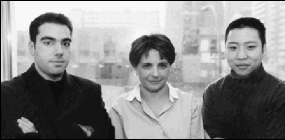 The backgrounds of these Case Competition organizers reflect the variety of MBA students. Michel Nassif (left) got his first degree as a computer analyst in Lebanon. Ann Kratochvil was trained as a nurse, then headed product development at Birks while she attended university. Kenneth A. Lee's first degree was in biology.

<! _______________________________________________________________________________>




Copyright 2000 Concordia's Thursday Report.