! CONCORDIA'S THURSDAY REPORT ON-LINE> <! January 13, 2000 Issue> <! Site Designed and Developed by: S. Mehrad B.Eng.> <! For comments and problems contact: technical@software-farm.com> <! http://www.software-farm.com>



<! ________________________________________________________________________________>
Art Education students splash the city with colour
by Michelle Rainer
---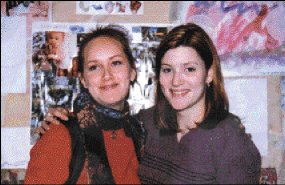 The Art Education Department showed off the results of a partnership with the city's community groups on November 30 as it unveiled "The Spirit of Community: A Collaborative Exhibition" at the VAV Gallery.
The evening featured paintings, collages, sculptures and other projects by nine community groups, made with the help of 41 students from Concordia's Community Art Education program. Works from the Concordia Saturday Art Workshops for kids were also displayed.
"This is the first time we've invited the community to have an opening like this," said organizer Professor Paul Langdon, adding that the program has been developing over the past few years.
Langdon says the program allows students seeking careers in art education a chance to gain professional experience while helping children, the elderly and those with physical or emotional problems to express themselves creatively.
"We send the third-year students out and they mentor the second-year students," Langdon said. "Together, they have to design a program of art education for these different community groups."
Participants included women's centre Chez Doris, Sir Mortimer B. David Jewish General Hospital and Tyndale St. Georges Community Centre.
Student mentor Alyssa Hastings worked with residents of the Cohen House for the Elderly. She and second-year student Erin Burton had participants make a paper quilt. Each segment was made up of an individual project related to the theme of memory.
"The idea of doing this quilt was improving the quality of life for them," Hastings said. "Even though they're all in the home, they don't all get to know each other. This was to bridge the gap so they could have conversations that would carry on after we were gone."
Hastings pointed out a picture of antique furniture cut from a magazine and another of a white farmhouse on a green hill as she explained the projects that made up the quilt.
"They did collages of things that matter to them," she said. "Most of them focused on their families or where they grew up, and they would tell each other stories about their memories." They also did poems and self-portraits. Hastings recalled how one woman gave herself wings "because she wanted to fly away from the home."
The students had to use their creativity to adapt the quilt to meet each participant's abilities. For example, one segment of the quilt was dedicated to 'timelines' of important events in the seniors' lives. "Some of them don't even remember the day before, so we did timelines of just that day," Hastings explained.
But even if some of the seniors forget, Hastings is confident that the project produced more than just a quilt. "I've really noticed a change in their self-esteem," she said. "Everyone can do art." <! _______________________________________________________________________________>



Copyright 2000 Concordia's Thursday Report.