! CONCORDIA'S THURSDAY REPORT ON-LINE> <! January 13, 2000 Issue> <! Site Designed and Developed by: S. Mehrad B.Eng.> <! For comments and problems contact: technical@software-farm.com> <! http://www.software-farm.com>



<! ________________________________________________________________________________>
Anvari appointed to second term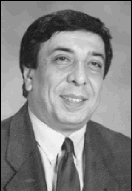 Mohsen Anvari has been selected by the Board of Governors on the recommendation of the Advisory Search Committee to a second term as Dean of Commerce and Administration, from June 1, 2000, to May 31, 2005. Although a full search was held and several candidates were interviewed, he was the only one to make the shortlist.

Dean Anvari has led the Faculty through some trying times, forging a sense of unity and common purpose despite severe budget compression.

Under his leadership, the Faculty achieved accreditation by the AACSB, one of a handful of Canadian business schools to do so. Enrolment and admission standards were raised simultaneously, an unusual accomplishment.

Through efficient management and an increase in self-generated revenue, the Faculty has maintained the quality of its programs and enhanced its reputation across Canada. We wish him well as he continues in his post.

<! _______________________________________________________________________________>




Copyright 2000 Concordia's Thursday Report.