! CONCORDIA'S THURSDAY REPORT ON-LINE> <! January 13, 2000 Issue> <! Site Designed and Developed by: S. Mehrad B.Eng.> <! For comments and problems contact: technical@software-farm.com> <! http://www.software-farm.com>



<! ________________________________________________________________________________>
Chris Hyde leaves post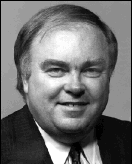 Christopher Hyde has left his position as Director of Advancement and Associate Vice-Rector, Institutional Relations.

Chris joined the university in 1989 from the private sector to establish the Office of University Advancement. He worked tirelessly over the years to enlist and build the loyalty of Concordia's many supporters, reviving the Annual Giving Campaign and laying the groundwork for the successful Campaign for a New Millennium, which raised $77 million.

Under Chris's leadership, alumni support has steadily increased, and fundraising revenues have grown from $2.7 million to $12.9 million annually. He helped to establish the Concordia University Foundation, and played a key role in developing the university's marketing efforts.

Although he is leaving the university, he will continue to develop its support base in Hong Kong, a project he started in 1996 that led to the establishment of the Concordia Hong Kong Foundation.

His many friends recognize his important contribution to the long-term development of Concordia. We all wish him well in his future endeavours.

<! _______________________________________________________________________________>




Copyright 2000 Concordia's Thursday Report.