<! *******************>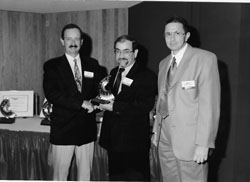 Pratt & Whitney's Technology Partnership Award is presented to Professor Wagdi Habashi by Vice-President of Engineering and Development Jean Colpin. At right is Adjunct Professor Hany Moustapha, who is manager of the Turbine Components Centre at Pratt & Whitney.
Concordia's strong research involvement in the aerospace sector was acknowledged on May 26 when Pratt & Whitney Canada presented the University with the first of four Technology Partnership Awards.
Accepting the award was Mechanical Engineering Professor Wagdi (Fred) Habashi, who has led the University's research partnership with Pratt & Whitney in the field of numerical simulation.
Habashi has been associated with Pratt & Whitney for 21 years as a consultant and through his directorship of the Computational Fluid Dynamics (CFD) Laboratory here at Concordia. Last year, a $612,880 NSERC major installation grant and $75,000 from the University enabled the CFD Lab to significantly upgrade its facilities on Guy St.
CFD is the science of calculating the flow of fluids, whether around an airplane wing, or within a gas turbine engine. The CFD Lab is currently fulfilling a large contract with Pratt & Whitney to develop software that has wide testing reduction applications, including the design and performance of engines, aeroelasticity, heat transfer, icing and aeroacoustics.
Pratt & Whitney's vice-president of engineering and development, Jean Colpin, presented the award at a day-long forum on universities and technology at the engine manufacturer's Longueuil headquarters. The company is involved in 45 projects with 14 universities and research centres, making it Canada's second-highest private investor in R&D. The coordinator of this effort is Hany Moustapha, who is an adjunct professor at Concordia.
Colpin said later that since the company's association with Habashi began in 1978, much has changed. "He started developing CFD models based on a non-viscous model, first of all. About 10 years later, he had moved into 3D viscous equations, which allowed us to start predicting gas turbine performance in all sorts of ways."
While safety and emissions issues are still important, Colpin added, engine-makers are also looking at acoustics and noise prediction with the precision that CFD's numerical technology affords.
Habashi's lab has provided original methods and the work of a steady stream of graduate students, research associates and professors, and Pratt & Whitney has been able to supply the means of verifying new models as they were developed.
Habashi also has other major contracts, including one with CAE Electronics to develop training software for flight simulators to train British military helicopter pilots.
Habashi's research is pioneering in another sense. Two years ago, in a development spearheaded by the Office of Research Services, the University created an arm's-length corporation to commercialize appropriate Concordia research. Through Univenture, Habashi and Concordia have created a company called Real Numerix, whose objective is to market and develop the CFD Lab's revolutionary software.
Real Numerix has just signed a contract with Transport Canada and the aircraft giant Boeing. Boeing propulsion engineer Chen Chuck said in a phone interview from Seattle that he had searched far and wide for the right person to do delicate, time-accurate calculations on the HSCT (high-speed civil transport) family of supersonic aircraft being developed there.
"We're designing an inlet control for the engine now, and it's very hard to do a wind-tunnel [test] on that inlet," Chuck said. "Small defibrillation of the air can make it unstart. Not many groups are capable of doing this kind of time-accurate numerical simulation work. I looked across North America, in Europe, in Japan, and Dr. Habashi is the leader in this technology."
These planes represent the post-Concorde generation, Chuck said. They will carry as many as 300 passengers at about 2.5 times the speed of sound, yet for little more than the current $16,000-plus Concorde transatlantic fare. "And they'll be easier to find airports for, too," he added.