<! *******************>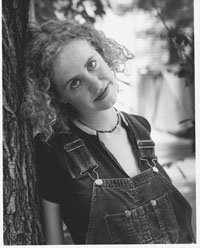 Robin McKenna's experience with La Course Destination Monde made her feel like a 16th-century explorer.
The 22-year-old student took a year out of her studies at Concordia's Liberal Arts College to be one of eight young adults -- the youngest, and the only anglophone -- to participate in the La Course in 1997-98.
The popular Radio-Canada TV show provides aspiring filmmakers with the means to travel the world while making mini-documentaries. Several are shown on each program, and evaluated by experts and a lively audience in the Montreal studio.
McKenna, who recently returned to Montreal after being away six months, originally took her break from university to join a relief mission in Peru, where she heard about La Course from another volunteer. "I couldn't sleep that night," she said, sitting in her kitchen. "I couldn't believe a chance like this existed."
It does, but competition to join is stiff. La Course is only open to non-professionals aged 18 to 29, and nearly 2,000 application forms are requested every year. About 440 people responded this season with the required sample documentary and a 20-page form.
Forty people were interviewed, and 15 of them were asked to produce two films in two weeks to demonstrate their talent under pressure. Eight made the final cut, and were given about $8,000 plane fare and $400 a week for expenses.
Although McKenna was well-travelled before joining La Course, she said that nothing prepared her for the challenge of producing 15 films of about five minutes each as she travelled. "I had to struggle to keep my head above water," she said. "I was overwhelmed."
Learning to use the camera proved to be her most daunting task. She had never before touched one, even though her father, Brian McKenna, is a well-known documentary filmmaker. "I felt completely alienated from my camera," she confided. "It was like a beast that needed taming." She was given a crash course and grew to love it.
During La Course, McKenna visited Cuba, Mexico, France, Kenya, Peru and Russia for a couple of weeks each. A Buddhist vegetarian, she also visited India for two months to have a better understanding of the country.
She had reservations about the format, though. "La Course is way too frantic at times," she said. "I think most [contestants] spend too much time waiting for planes."
In India, McKenna befriended a local family and filmed them for several days. She used the opportunity to have a frank discussion about pre-marital sex and Western women's rights, while they informed her about arranged marriages. "The mother seemed to think I was some sort of Eve, out to tempt her sons," she said, laughing.
Cuba and Russia were the countries she favoured. "I was struck by the sharp intelligence of the people," she said, although she was also amazed at some Russians' rudeness. "New Yorkers are nothing compared to Russians. These people tell you exactly what they feel."
She got a shock when she landed in Russia wearing only sandals and a sundress after visiting a succession of hot places, to find the country buried under 30 centimetres of springtime snow.
Another surprise was discovering that a Mennonite community she filmed in Western Canada was not as secluded as she thought. Many of the teenage girls had celebrity posters on their walls and one remarked that she had seen something like McKenna's blue nail polish in a fashion magazine.
Now consumed with a desire to make films, McKenna is trying to sort out her future. The final episode of La Course, an annual gala at which a $50,000 prize is awarded to the best young filmmaker, airs this Sunday at 5 p.m. on Radio Canada's Les Beaux Dimanches.