<! *******************>
Alumni
Grad Finale Convocation Reception
Alumni are invited to this joyous celebration during Concordia's spring Convocation to welcome new graduates to the "alumni family." June 12, Atrium of the J.W. McConnell Building, 1400 de Maisonneuve W., 5:30 to 7:30 p.m. Price: Free for spring 1998 graduates, $12 for family and friends. Includes light refreshments. RSVP: 848-3815.
Stratford Theatre Festival Alumni Weekend
For this special theatre weekend package, we've chosen one classic musical, Man of La Mancha, two great works by William Shakespeare, Much Ado About Nothing and Julius Caesar, plus two behind-the-scenes tours. Take advantage of our superb group rates for a memorable weekend in this picturesque Victorian city. July 17-19, the Victorian Inn on the Park. Price per person, based on double occupancy: $325. Single occupancy rate: $430. RSVP at 848-3817. Transportation on your own.
Third Annual Concordia Alumni Night at the 1998 du Maurier Open
Tennis Canada is once again pleased to offer alumni a special evening of international women's tennis championships at the 1998 du Maurier Open, featuring such stars as Martina Hingis and Arantxa Sanchez Vicario. August 19, du Maurier Stadium, Jarry Park Tennis Centre. 5:30 p.m. $33 per person, plus taxes; includes reserved group seating with fellow alumni, access to a reserved corporate area, and a three-course pasta dinner. Limited space available. RSVP by Thursday, July 30 by calling Tennis Canada at 273-1515, ext. 245. Diners Club-enRoute, Visa, MasterCard and American Express accepted.
Art
Until June 20
Les Mystères objectifs... selected works from the Permanent Collection (1948-1998). Leonard and Bina Ellen Art Gallery, 1400 de Maisonneuve W. Free. Info: 848-4750.
CPR/First Aid Courses
Environmental Health and Safety offers the following courses, which are open to everyone. For information and prices, call Training Coordinator Donna Fasciano at 848-4355.
June 11
Heartsaver
June 13 and 14
CSST First Aid (English)
June 16
Heartsaver
June 17 and 18
CSST First Aid (English)
June 20
Heartsaver Plus
July 16 and 17
CSST First Aid (English)
July 18
Basic Life Support
July 21
Heartsaver CPR
July 22 and 23
CSST First Aid (French)
July 25 and 26
CSST First Aid (French)
July 28 and 29
CSST First Aid (English)
July 30
Heartsaver CPR (French)
August 5 and 6
CSST First Aid (English)
August 8 and 9
CSST First Aid (French)
August 11
Heartsaver CPR
August 15 and 16
CSST First Aid (French)
August 21
Heartsaver CPR
August 22
Basic Life Support recertification
August 23
Heartsaver Plus
August 27 and 28
CSST First Aid (English)
September 4
Heartsaver CPR
September 9 and 10
CSST First Aid (English)
September 13
Heartsaver Plus
September 15
Heartsaver CPR (French)
Campus Ministry
Mindfulness Meditation
Relaxing, centering and concentrating. Beginners always welcome. Thursdays at noon, Belmore House, Loyola. Info: Daryl Lynn Ross at 848-3585.
Video series on the Four Noble Truths
The Dalai Lama explains the fundamentals of Buddhism in this video-viewing and discussion group meeting on the Four Noble Truths. Every Wednesday from 11 a.m. to 12:30 p.m. at Campus Ministry, Loyola, 2496 West Broadway, until June 24. The group is open, so you are welcome to join at any point. Feel free to bring your lunch. Info: Daryl Ross, 848-3585, darylyn@vax2.concordia.ca
Community Events
Yellow Door Elderly Project
Volunteers are urgently needed over the summer months to accompany seniors to and from appointments, to help with shopping, or to drop by for visits once a week. Info: Leah or Danielle at 398-6243.
Concert Hall
7141 Sherbrooke W. Tickets and info: 848-7928.
Thursday, June 15
Memory and Community Forum, presented by the Concordia Summer Institute in Management and Community Development. 9 a.m. Info and registration: 848-3956.
Thursday, June 25
Centre communautaire juif chorale concert, 8 p.m. Tickets: 848-7928.
Legal Information
Concordia's Legal Information Services offers free and confidential legal information and assistance to the Concordia community. By appointment only. Call 848-4960.
Meetings
Take Back the Night
Women of all backgrounds, ages and sexual orientations are invited to join our weekly planning meetings for this year's march, which protests violence against women. Every Thursday at 6:30 p.m. until mid-September at the Concordia Women's Centre, 2020 Mackay, in the basement under the stairs. Info: Nathalie at 848-7431.
Office of Rights
and Responsibilities
The Office of Rights and Responsibilities is available to all members of the University community for confidential consultations regarding any type of unacceptable behaviour, including discrimination and personal/sexual harassment, threatening and violent conduct, theft, destruction of property. Call 848-4857, or drop by 2150 Bishop, room 110.
Ombuds Office
The Ombuds Office is available to all members of the University for information, confidential advice and assistance with university-related problems. Call 848-4964, or drop by 2100 Mackay, room 100.
Peer Helpers
Listening and referral centre for students
Peer Helpers are students who are trained in active listening skills and referrals. Drop by to talk or get information at 2090 Mackay, room 02, or call us at 848-2859.
Unclassified
For rent
Petit railroad cottage in Westmount. Ideal for couple. Two small bedrooms and studio. Easy access to bus/métro. Available mid-August, negotiable. Robert: 484-2761; Kay: 404-378-5874.
Sofabed for sale
Opens to twin size, $40. Must go by June 15. Call 488-2278 by June 13.
For rent
Parc St. Henri, renovated 5-1/2, 2 floors; washer & dryer, dishwasher, stove & fridge; near St. Henri métro, within walking distance to SGW Campus, $600/mth. Available September 1. Info: 938-4293 or Brenda@vax2.concordia.ca
For rent or for sale
4 1/2 condo, near Georges Vanier métro. Info: 848-4926 (days) or 933-9947 (evenings).
For rent
Upper duplex, 4 1/2, NDG. No appliances, unheated. $500/mth. Washer/dryer outlets. Immediate occupancy. No cats allowed. Dogs accepted. Call 781-5773.
Sabbatical rental
Fully furnished four-bedroom house near universities. $1150/month + utilities. Available July 1. Contact A. Athienitis at 848-8791 or athiena@alcor.concordia.ca
Writing services
Indexing and editing of academic publications by professional indexer, reasonable rates, specialize in social sciences and humanities. Call Angela Kuhn at Codex (514) 479-6244.
Computer tutoring
Private or group tutoring for Internet or computer use (PC, Mac, UNIX). We also do consulting (upgrading, purchase, configuration) and Web design and programming. Meera Group: webbroker@hotmail.com, or 920-2055 (pager).
U.S. work permits
We can help Canadian citizens increase their chances of receiving U.S. work permits. Also, U.S. immigration and related business matters. B. Toben Associates (U.S. lawyers) 288-3896.
A joyous, inclusive celebration
Multi-Faith
Convocation
Service
Sunday, June 14, 11 a.m.
Loyola Chapel
7141 Sherbrooke St. W.
Graduating students and faculty may
wear academic dress and be in the
procession; please arrive at 10:40 a.m.
Families and friends, faculty and staff are also invited. Refreshments will be served
following the service.
For more information, call 848-3599
Concordia University
Campus Ministry


Join the Party!
The Concordia University Alumni
Association invites you to come and
raise a glass to the Class of '98 at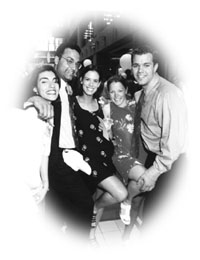 Friday, June 12, 1998
5:30 - 173; 7:30 p.m.
Atrium - Place Concordia, J.W. McConnell Building
1400 de Maisonneuve Blvd. West
Price: Complimentary for graduating students
$12 for each guest
Tickets can be picked up at the
Office of Alumni Affairs
SGW Campus: 1463 Bishop St., BC-101
For more information, call (514) 848-3815