<! *******************>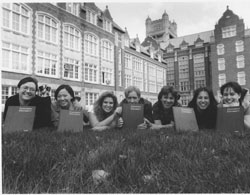 Taking a breather from putting together the Concordia yearbook for 1997-98 are, left to right, Theresa McCart, May Lau, Tanya Polleth, Graham Arnold, Jane Hackett, Stephanie Ferriera and Karine Jalbert.
When graduates of the Class of '98 open their yearbooks, cherished memories of Concordia will come back as they flip through pages of events, sports, grads, faculty and staff. But they may not realize that it took six student volunteers a solid year to produce.
"Students think we just throw everything together," said Stephanie Ferriera. "It's more complicated than that. We have to take our time and think about everything we want to put in it, because the yearbook lasts a lifetime, and we do it for the graduating class."
Ferriera is a first-year student majoring in Urban Studies. "I like my program, but I missed not being involved in art, so I decided to volunteer for the yearbook," she said. "I can take pictures, do my own pages, and create something."
She joined the committee last September, when the new members prepared for their first experience in layout and design with a three-hour workshop. After that, they met twice a month to decide on the events they would cover and who would do what.
A Montreal representative of Herff Jones publishers worked closely with them, checking pages before they were sent off to the company's headquarters in Winnipeg. Jane Hackett, secretary of the Dean of Students, helped them make their many contacts throughout the University for photos.
The committee is in charge of finding pictures for the first 96 pages of the yearbook and laying them out, and by mid-May, they had completed their work. The rest of the photos are individual pictures of graduating students, and a staff member from the Dean's office was responsible for the layout of those pages.
About 750 undergraduates and 100 graduating students took advantage of the 1997-98 yearbook, a $48 option offered to students when they pay their student fees. They should receive their yearbook in late October.
The student editors don't get any academic credit for this extracurricular activity. "Working on the yearbook is like getting involved in a sports team," said Karine Jalbert, as she cropped pictures on the coffee table of the Dean's office. "We trade our time for experience."
Jalbert is the editor of the yearbook and a student in Design Art. She has been on the committee for three years and plans to come back next year. She'll incorporate the experience in her professional portfolio, but for the other students, this activity is unrelated to their field of study.
Theresa McCart, a third-year student in Political Science, is doing the yearbook to get experience in layout and publishing, a field she wants to enter. As a member of the class of '98 herself, she considers this yearbook special. "When I'll look back, it'll be good to know I was part of the team that created it."