<! *******************>

André Bazergui

Engineering
and Computer Science

André Bazergui is the Director-General of the École Polytechnique, the fine engineering school that is part of the Université de Montréal and is celebrating its 125th anniversary this year.

He earned a degree in mechanical engineering in 1963, and received his PhD in applied mechanics from the University of Sheffield, England, on an Athlone Fellowship. He joined the faculty of the École Polytechnique in 1966 as assistant professor.

Bazergui is president of the National Council of Deans of Engineering and Applied Science, and of the Committee of Engineering Deans of Quebec. He has been active in committees of the Ordre des ingénieurs du Québec, the Canadian Academy of Engineering, the American Society of Mechanical Engineers and the Society for Experimental Mechanics. In 1987, he received the G.H. Duggan Medal of the Canadian Society for Mechanical Engineering and was made a Fellow of the Society in 1990. He is also a Fellow of the Engineering Institute of Canada.

An award-winning teacher, his research is in experimental stress analysis and pressure vessels, with particular emphasis on bolted joints and gasket behaviour. He was founder of the École Polytechnique's Tightness Testing Research Laboratory, a world leader in gasket characterization.

Bazergui has been a member of the Board of the Centre de recherche industrielle du Québec since 1993, and its vice-president since 1997. He has been active on the Board of the Conférence des recteurs et des principaux des universités du Québec, the Association of Universities and Colleges of Canada, and the Corporate Higher-Education Forum.

Currently on administrative leave from École Polytechnique, Bazergui is with Innovitech Inc., a consulting firm specializing in information and communication technology applications.

Conscious of the importance of attracting young talent to science and engineering, Bazergui chaired the Festival des sciences of the Montreal Catholic School Commission in 1994. The Board honoured him by establishing the André Bazergui Award, which is given each year at the Festival to winning teams.

He has also given his time to the university sector's Centraide campaign, and to the fundraising effort for the new Espace-Go Theatre, a magnificent cultural facility on St. Laurent Blvd.

David Jay Bercuson

Arts and Science

Historian David Bercuson is a native of Montreal and a graduate of Sir George Williams University (BA hons, 1966). As an undergraduate, he was awarded the Lieutenant-Governor's Silver Medal for History.

He completed his Master of Arts in 1967 at the University of Toronto, followed in 1971 by a PhD, also at the University of Toronto. His doctoral dissertation, Labour in Winnipeg: The Great War and the General Strike, was later expanded, and published by McGill-Queen's University Press.

Bercuson has made a significant contribution to the study of Canadian history, particularly between 1860 and 1950, by providing a provocative analysis of the federation and its future.

Since 1970, Bercuson has taught history at the University of Calgary. He is director of the Strategic Studies Program, and was Dean of Graduate Studies from 1989 to 1996. He was a Killam Resident Fellow in 1981 and a Killam Research Fellow between 1985 and 1987. In 1988, he was named to the Royal Society of Canada.

In collaboration with Jack Granatstein and Robert Bothwell, Bercuson published The Great Brain Robbery in 1984. It was a stinging indictment of the Canadian university system, and became a controversial bestseller. The three historians collaborated again in 1997 on the Petrified Campus: The Crisis in Canada's Universities.

He is an expert on military affairs, and has often been interviewed and quoted, most recently on the so-called Somalia Affair. Bercuson served in 1997 as special advisor to the Minister of National Defence on the future of the Canadian Forces, and is now a member of the Minister's Monitoring Committee on Change in the Canadian Forces and the Department of National Defence.

Douglas Cardinal

Fine Arts

Douglas Cardinal has been credited with creating a Canadian style of architecture with his curvilinear, organic buildings, most famously exemplified in the Museum of Civilization in Hull.

Other buildings with the distinctive stamp of this visionary architect include St. Mary's Church in Red Deer, Grande Prairie Regional College, the Edmonton Space Sciences Centre, St. Albert Place, and other public buildings in Western Canada. The Touristic Village at Kahnawake is also a Cardinal design, as is the hotel complex for the Oneida Indian Nation in Syracuse, N.Y.

Cardinal has said the design of a building is a spiritual act. He has developed a painstakingly thorough process of designing "from the inside out," placing people at the heart.

His firm is one of North America's leading users of computer-aided drafting, and was selected as a demonstration site for the testing and advancement of Canadian CAD technology. The development of this system has freed Cardinal and his staff from exacting manual tasks to focus on design refinement.

Born and raised in Alberta, he completed his Bachelor of Architecture with honours in 1963 at the University of Texas in Austin, and has won a number of international awards and prizes over his illustrious career. Last year, he received the Caledonian Prize Lectureship in Edinburgh, Scotland. In 1995, he received the National Aboriginal Achievement Award, and in 1992, the Canada Council Molson Prize for the Arts and the Great Canadian Award.

In 1990, he was made an Officer of the Order of Canada, and has six honorary doctorates -- from Calgary, Windsor, Lethbridge, Trent and Carleton universities, as well as from the Massachusetts School of Art. His work has been exhibited in France, Belgium and Poland, at the Museum of Modern Art in New York, and throughout Canada. He has been a guest speaker at conferences and lectures around the world.

Cardinal is a Fellow of the Royal Architectural Institute and a member of the American Institute of Architects, Washington, D.C. chapter. He recently opened an office in the U.S. capital to serve his most recent and possibly most visible project, the Museum of the American Indian, which is being built on the last remaining site on the Mall.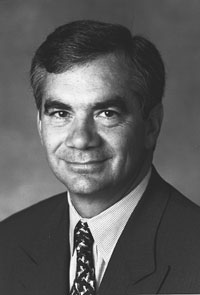 Dominic D'Alessandro
Commerce and Administration
Dominic D'Alessandro, a graduate of one of Concordia's founding institutions, has gone on to lead Canada's largest insurer, Manulife Financial.
D'Alessandro was born in Italy, but his
family had settled in Canada by the time he was three. He graduated in 1967 from Loyola College with a Bachelor of Science in physics and mathematics, and went on to McGill University, qualifying as a chartered accountant in 1971 with the Institute of Chartered Accountants Bronze Medal.
In 1968, he joined Coopers and Lybrand, where he rose to the rank of manager, responsible for the audit engagements of some of Canada's largest corporations. He spent a year in that firm's Paris office. His next position, with Genstar Ltd., took him to Saudi Arabia and San Francisco.
D'Alessandro joined the Royal Bank of Canada in 1981 as deputy comptroller, then became executive vice-president and chief financial officer of that institution. By 1988, he was president and chief executive officer of the Laurentian Bank of Canada.
In 1992, he was given the Golden Award of Merit from the Order of the Sons of Italy and made a Fellow of the Order of Chartered Accountants. In 1994, he became president and CEO of Manulife Financial. He serves on the corporate boards of the Hudson's Bay Company and Schroeder Canada, and is a member of Business Council on National Issues and the Conference Board of Canada.
He is vice-chair of the board of the Canadian Life and Health Insurance Association and a director of the American Council of Life Insurance. He has served as co-chair in the campaign of the Corporate Fund for Breast Cancer.
In 1989, D'Alessandro generously responded to a fundraising appeal from Concordia, and the following year, joined the Board of Governors, serving until 1995 and actively supporting the University's Annual Giving campaign.
John N. Economides
Commerce and Administration
Over the 57 years since he graduated from Sir George Williams College, John N. Economides, C.M., has demonstrated remarkable dedication to helping others.
In 1941, he graduated with a Bachelor of Commerce, majoring in accountancy and economics. He served in the Royal Canadian Navy for nearly four years, mostly on convoy duty in the North Atlantic. He had joined as an ordinary seaman and retired from the service in September 1945 with the rank of lieutenant.
He spent his career at Imperial Tobacco and Imasco Limited. In 1965, he received certification from the Administrative Management Society, an international organization he promoted and from which he has received honours. Five years later, he received a diploma in Management Development for Executive Accountants after completing a two-year course sponsored by the Society of Industrial Accountants and McGill University. In 1973, he was certified by the Institute of Internal Auditors.
Economides was invested as a member of the Order of Canada in 1997 for his work for others, notably the Kidney Foundation of Canada, the Montreal Children's Hospital and Foundation, the Senior Citizens' Forum, the Hellenic Family Services of Quebec and the Hellenic Community of Montreal, the YMCA Foundation, the Portage Foundation and the Alzheimer Society of Montreal. But perhaps none has benefitted more than Concordia.
He served with distinction on the University's Board of Governors from 1987 to 1995, when he was designated Governor Emeritus. This year, he chaired the Annual Giving Campaign's Alumni Division.
He has been president and is still a director of the Sir George Williams Alumni Association, and was a director and vice-president of the Concordia University Alumni Association. He was chair of the University's first annual Homecoming in 1990, and the same year, was the first recipient of the Concordia Alumni Association's highest honour, the Award of Merit.
Carol Shields
Arts and Science
Carol Shields' writing has enthralled readers the world over, especially The Stone Diaries, which won both the Pulitzer Prize and the Governor-General's Award for Literature, and more recently, Larry's Party, which has just won Britain's most lucrative award, the Orange Prize.
Among the gems in her earlier works are Small Ceremonies, Various Miracles, and The Box Garden. One novel, Swann, has already been made into a feature film, and others are expected from The Republic of Love and The Stone Diaries.
She has published three books of poetry, eight novels, two collections of short stories, four plays and a book of criticism. Her books have been translated into 24 languages. She has won the Canadian Booksellers Prize and the National Book Critics Circle Award, and has been shortlisted for the Booker Prize, the Guardian Fiction Prize and the Giller Prize.
In 1957, Shields completed her Bachelor of Arts degree, cum laude, from Hanover College in Indiana, and in 1975, earned an MA in Canadian Literature from the University of Ottawa, whose English Department she joined a year later as a lecturer.
She continued her teaching career at the University of Manitoba in 1980, but spent two years away as writer-in-residence, first at the University of Winnipeg, then at the University of Ottawa. She became a full professor at the University of Manitoba in 1995, and was installed as Chancellor of the University of Winnipeg in 1996.
She is a member of the Royal Society of Canada and has received honorary doctorates from the University of Ottawa, Hanover College, Queen's University, the University of Winnipeg, the University of British Columbia, and, as of next week, the University of Toronto.
Her primary academic field has been Canadian literature, women's writing and feminist fiction, with particular emphasis on Susanna Moodie, who was the topic of her Master's thesis, and Jane Austen, about whom she is currently writing a short biography.
All of Shields' work, scholarly as well as literary, is characterized by intelligence, compassion and a close attention to the rhythms and colours of language.
Mary J. Wright
Arts and Science
Mary J. Wright is Professor Emerita of Psychology at the University of Western Ontario, and a pioneer in the field of psychology, particularly early childhood education.
As chair of psychology at Western in the 1960s, she made it one of the best psychology departments in North America. She was the first woman to hold a number of positions, including president of the Canadian Psychological Association. She served as archivist of the Association, and was an editor of The History of Academic Psychology in Canada.
Wright recognized the importance of teacher training for early childhood educators early, and emphasized it as chair of the certification board of the Ontario Nursery School Association, from 1964 to 1966.
She established the Laboratory Pre-School at the University of Western Ontario, where she conducted a major project that demonstrated the benefits of education for young children from all economic backgrounds. Her book describing this work is Compensatory Education in the Preschool: A Canadian Approach.
Throughout her life, she has been a strong advocate for children, by providing them with the skills and motivation to realize their intellectual and social potential. She has taken particular interest in children from disadvantaged circumstances and was a leader in obtaining financial support from Canadian agencies for developmental psychological research and the scientific study of children and families.
Wright completed her Bachelor of Arts in psychology and philosophy from the University of Western Ontario in 1939, and was awarded the gold medal for highest academic standing in the honours program. She completed her Master's degree in 1940 and her PhD in 1949, both in psychology and both at the University of Toronto.
Her graduate studies were interrupted by the war. From 1942 to 1944, she was in Birmingham, England, training teachers for work in wartime day nurseries. She began her career at the University of Western Ontario in 1946, was made a full professor in 1962, and Professor Emerita in 1980, when she retired, but she maintains her office there and continues to be active in the profession.
She has received several awards, including the Queen Elizabeth Silver Jubilee Medal in 1977, and has honorary degrees from Brock University, the University of Western Ontario and Carleton University.
William Shue Lam Yip
Commerce and Administration
William Yip was born in Hong Kong. He spent the 1960s in Montreal attending Sir George Williams University, where he completed a Bachelor of Arts degree in 1967, and developed his skills as a community leader, notably with the Montreal Chinese Hospital, and as an entrepreneur.
Soon after his return to Hong Kong in the early 1970s, he founded Canada Land Limited and made it a leading real estate developer. Today, he is chair of several of its subsidiary companies. Projects by Canada Land in the city of Guangzhou, a transportation hub in the People's Republic of China, have made it one of the city's largest developers.
Yip has been an ardent supporter of Canadian universities. From 1978 to 1984, he was president of the Canadian University Association in Hong Kong, building greater awareness of the opportunities for young people there to study in Canada.
In 1984, Yip was chair of the CanadExpo '84 Committee, one of the largest Canadian trade fairs ever held outside the country. He has been a foreign trade advisor to the province of Quebec since 1988, and a member of the board of governors of the Canadian Chamber of Commerce since 1994.
He is the newly elected president for 1997-98 of the Canadian Chamber of Commerce in Hong Kong, the largest Chamber outside Canada. In 1996-97, he was given the Canadian Chamber of Commerce Voyageur Award for his success as an entrepreneur and his contributions to the community.
Yip writes extensively on real estate development, contributing to major newspapers in Hong Kong, and he is a co-author of Doing Business in China, published in 1995 by McGraw-Hill Ryerson.
Through his enthusiasm and his dedication, Yip has linked Canada, Hong Kong and China. By participating in the culture, entrepreneurial and community spirit of each of these places, and by promoting the educational opportunities each presents, he has shown that we can live in a truly global village.