! THURSDAY REPORT ON-LINE> <! 11/02/99 Issue> <! Site Designede and Developed by: S. Mehrad B.Eng. For comments and problems contact: technical@mehrad.qc.ca> <! http://www.mehrad.qc.ca>



<! ________________________________________________________________________________>
Neither rain nor snow. . .
Campaign reception attracts more than 200 Toronto grads
by Sami Antaki
---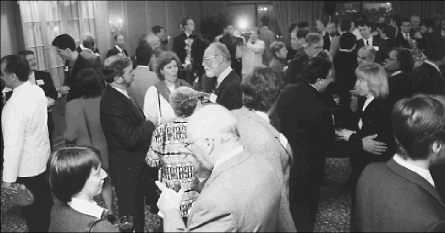 Toronto mayor Mel Lastman should have foregone calling in the army during last January's snowstorm that blanketed Canada's mega-city; what he should have done is invite everyone to a Capital Campaign reception hosted by Brian Steck. That, more than anything else, would have mobilized Torontonians of all ages to brave the elements. At least that's the impression we were left with following the recent standing-room-only event hosted by Steck at the Bank of Montreal.
More than 230 graduates and friends, including former Commerce faculty members Larry Bessner and Rollie Wills, crowded the executive reception halls on the bank's 68th floor for nearly three hours of
reminiscing, schmoozing and discussions about Concordia. Were it not for the snowstorm, which delayed delivery of many invitations, the party likely would have spilled
out into the elevators and adjoining floors.
The event attracted Campaign Honorary Patron and Bank of Montreal Chair and CEO Matthew Barrett, Dundee Bancorp Chair and CEO Ned Goodman and several senior Campaign volunteers. The presence of so many backroom and board room movers and shakers signalled the start of an all-out solicitation blitz targetting Toronto-area alumni and corporations. The Campaign has registered just under $50 million in pledges and is looking to this Division to provide a strong finishing kick.
According to Christina Lebesis, Toronto Campaign Director, the evening was a huge success both in terms of numbers and enthusiasm. "Brian Steck did a great job hosting this reception," said Lebesis. "Everything was first class and that reflected very well on Concordia. We should all be grateful for the Brian's generosity. He's leading by example."
The reception was the fourth major Campaign/alumni event hosted in Toronto in the last year and it clearly underlined the importance of maintaining a sustained presence in the city. Guests headed back home clutching pledge forms and vowing to support the Campaign; at least one five-figure gift was made on the spot. The expectations are that many more pledges will be made in the coming months.
$49,851,322 so far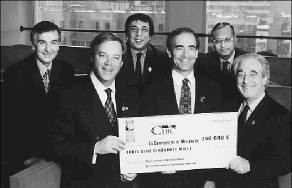 With fewer than five months to go, Concordia's Campaign for a New Millennium is closing in on its $55 million objective. The spate of recent gifts has raised the total amount pledged to $49,851,322 and has brought a host of donors on campus for ceremonial pledge presentations. Among these was the recent ceremony to highlight the CIBC's $350,000 gift to support a Distinguished Professorship in Entrepreneurial Studies and Family Business.
Pictured here are (from left) Don Taddeo, Campaign Executive Vice-Chair, L. Jacques Ménard, Campaign Leadership Gifts Chair and Deputy Chair of Nesbitt Burns, Mohsen Anvari, Dean, Commerce and Administration, Robert Panet-Raymond, CIBC Senior Vice-President, Commercial Banking, Bakr Ibrahim, Associate Dean, Commerce and Administration, and Rector Frederick Lowy.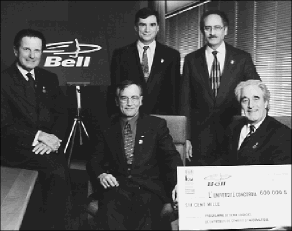 Pledges were also presented to Concordia in ceremonies held off campus. Among these was the $600,000 Bell Canada Gift to support the Engineering and Computer Science Faculty's software engineering initiatives. Campaign Chair Ronald Corey (far left) attended the event with Dr. Lowy (far right) and Nabil Esmail (standing, far right), Dean of Engineering and Computer Science. Representing Bell Québec were Yvan Frechette, General Manager, Education (at rear) and Guy Marier, President (seated). <! _______________________________________________________________________________>


Copyright 1998 Concordia's Thursday Report.