! THURSDAY REPORT ON-LINE> <! 11/02/99 Issue> <! Site Designede and Developed by: S. Mehrad B.Eng. For comments and problems contact: technical@mehrad.qc.ca> <! http://www.mehrad.qc.ca>



<! ________________________________________________________________________________>
Gospel musical will celebrate Black History Month with joy
Jeri Brown and the cast in rehearsal for Gospel in Colonus.
by Barbara Black
---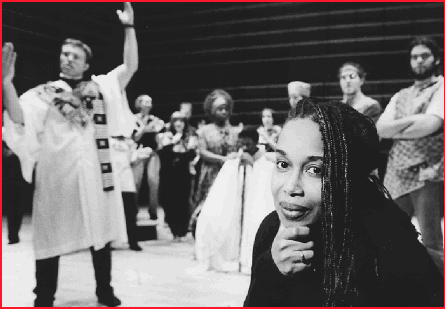 The exuberant sound of black gospel music will fill the Concordia Concert Hall on February 18, as Jeri Brown's jazz choir presents the Broadway musical Gospel in Colonus.
Gospel music, often joyful, always emotional, has made its way from the humblest churches of the U.S. South into the world's musical mainstream.
For Music Professor Brown, it's also a great vehicle to teach students how to sing with their whole bodies -- forget that microphone -- how to sight-read challenging music, and how to connect with an
audience.
Brown is well acquainted with the musical, which was a success on Broadway in the late 1980s. She played a principal role and assisted the music director when Halifax's Neptune Theatre mounted the Canadian premiere production of Gospel in Colonus last year.
The musical transforms Sophocles' classic story of Oedipus into a Christian gospel of sin and redemption. A preacher takes the choir and congregation through the story in
a virtually non-stop succession
of numbers, sung in rousing
gospel style.
Brown herself has a flourishing performance career, and has recorded seven albums in her own distinctive avant-garde jazz style. She thinks that gospel continues to grow in popularity because of our hunger -- perhaps increasing as the turn of the millennium approaches -- for expressions of spirituality.
The jazz choir has 28 members, some of them Theatre students with a flair for the stage. The principal roles are filled by Andrew Burr (Music) as the preacher and Gage Pierre (Theatre) as Oedipus.
In October, when the group had four songs from Gospel under their belt, they performed for the 600-plus students who take Visual and Performing Arts in Canada, a course which is required for all Fine Arts students and draws others, as well.
Professor Brown said the choir got a standing ovation with cheers, and some new recruits. "I think that audience will be back on February 18 to see the whole thing," she laughed. She extends an invitation to the whole Concordia community to come out and celebrate Black History Month at this one-time-only performance.
Gospel in Colonus will be presented on Thursday, February 18, at the Concordia Concert Hall, 7141 Sherbrooke St. W., at 8 p.m. <! _______________________________________________________________________________>


Copyright 1998 Concordia's Thursday Report.