! THURSDAY REPORT ON-LINE> <! 11/02/99 Issue> <! Site Designede and Developed by: S. Mehrad B.Eng. For comments and problems contact: technical@mehrad.qc.ca> <! http://www.mehrad.qc.ca>



<! ________________________________________________________________________________>
Prolific playwright has three plays in production across Canada
Kit Brennan attacks our acquisitive ways in Having
by Jane R. Davenport
---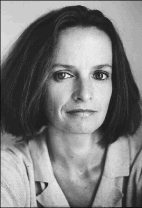 Kit Brennan, head of Concordia's playwriting program, is having a banner year. On February 18, her play Having will be given its premiere at the Centaur Theatre, crowning a busy season for the award-winning playwright.

"My friends are telling me to grab onto it while it lasts," she laughed, in an interview in her tiny office at Loyola campus.

In November, Brennan's one-woman play about anorexia nervosa, Hunger Striking, opened at the Theatre Passe Muraille in Toronto; two earlier plays, Spring Planting and Tiger's Heart, are being remounted in Kamloops, B.C., and Parrsboro, N.S., respectively. To have several works in simultaneous production is unusual for a Canadian playwright.

"It's very rare," Brennan agreed. "If a play takes off -- if you're lucky -- you might have three productions of the same play in a year."

At 41, Brennan already has a Canadian National Playwright's Award under her belt for Tiger's Heart (1994), a drama about a woman doctor masquerading as a man in turn-of-the-century South Africa.

All this in a writing career only five years old. Brennan spent the first 15 years of her artistic career as an actor. "My plays actually get mixed reviews from the critics," she said. "I like to stir things up, shock people. If I can shake up their perception of reality, that's good."

Having explores "the fast-paced environment we inhabit now, where the stress of life has increased status, and none of us escape, even children." According to Brennan, this rat-race results in a society focused on "having," rather than "being."

The play's main characters are David, a man who moves his office to his living room when his business partner moves out west, and his 17-year-old epileptic daughter, Erin. The action begins to unfold after Erin decides to stop the medication she has been taking for years, and David's business begins to unravel.

Central to the play is the figure of an 18th-century highwayman who haunts Erin, juxtaposing the romance of a bygone era with the high-tech business imagery of David's world.

"He's kind of a force of freedom in the play, urging her to follow her heart, take her freedom, but he also forces her towards an [inner] dark side she thought she had escaped," Brennan said. "I seem to take this on a lot, where I'll just juxtapose something with something else, and someone will say that can't possibly work," she added with a laugh.

The themes of the play first began to take shape for Brennan during her direction of an improvisation workshop based on Daniel Defoe's novel Moll Flanders. She developed Having more fully last year as playwright-in-residence at the Centaur, and gives credit to Centaur's artistic director, Gordon McCall, for his enthusiasm in the project.

"I worked the play up to a second draft by Christmas 1997. At that point, Gordon decided to go ahead with it, which is unusual [based on such an early draft]. I was impressed by his faith in the project," she said.

Having will be presented at the Centaur Theatre, February 18 to March 20. Call the Centaur's box office at 288-3161 for times and prices.

<! _______________________________________________________________________________>



Copyright 1998 Concordia's Thursday Report.