! THURSDAY REPORT ON-LINE> <! 11/02/99 Issue> <! Site Designede and Developed by: S. Mehrad B.Eng. For comments and problems contact: technical@mehrad.qc.ca> <! http://www.mehrad.qc.ca>



<! ________________________________________________________________________________>
Theatre Design students get flattering attention from U.S. recruiters
We train artists for the theatre
by Sylvain-Jacques
Desjardins
---
Enticing offers abounded for seven students of Concordia's Design for the Theatre Program during a recent postgraduate recruitment weekend in New York City.
Called the University Residence Theatre Association (URTA), the two-day event allows students an opportunity to have their portfolios examined and to meet university headhunters from the four corners of the U.S. to see what they have to propose -- from tuition waivers to top-notch facilities -- before formally applying to the institution of their choice.
Choices were plentiful for the Concordians. "No one left empty-handed," said Eric Mongerson, Concordia Theatre Department Chair, who accompanied the students to URTA on January 30 and 31. It's an event the University has attended for about 15 years, and Concordia students are perennial favourites with recruiters.
What makes Concordians hot commodities at URTA, Mongerson said, is their highly developed aesthetic sense, which shines through their portfolios, setting them apart from most competing American students, who posses mostly technical know-how.
"Recruiters view our students as being better developed," he said, noting that fostering aesthetic awareness is more difficult than teaching technical knowledge. "Grading art work is difficult in the best of circumstances, which is why most U.S. schools concentrate on technical skills."
Concordia Theatre Design students are essentially trained to create the look of a play, dance show or opera, from costumes to lighting. "Our students are taught to look at the whole picture," said Ana Cappelluto, Theatre Design Program Coordinator. "It's not that we ignore technical skills; rather, we try to have students find their own aesthetic vision of a theatre piece. It's a conceptual approach."
Better knowledge of aesthetics translates into better offers. These offers can be significant, considering a three-year tuition fee waiver averages $40,000 Canadian.
"Without wanting to sound biased, we really stood out at URTA," said Concordia student Amy Keith, 24, who was recruited by the California Institute for the Arts and Northwestern University during the event. "Unlike other universities, Concordia doesn't have an imposed style. I was struck by the individuality of Concordia] student portfolios]."
Theatre Design alumna Tina Louise Jones, 28, who attended URTA in 1996, received a dozen offers from recruiters. She selected the University of Connecticut because of its proximity to the New York theatre scene, its tuition waiver, and the extra perk of a teaching assistant's job. While at URTA, she too recalled being in awe of Concordia's reputation when recruiters were coming up to her "every 15 minutes" to talk. "But a student has to do their homework on potential universities," she said, before being lured with tempting offers.
"You can't decide to enrol, yes or no, on the spot," agreed student Cathia Pagotto, 25, who received a dozen offers from universities as well. But to keep her options open, she also had her portfolio reviewed at the famed TISCH School of the Arts at NYU (which was not part of URTA). She was accepted on the spot, though the university does not offer funding for foreign students. "Choosing which university to attend is a really tough decision, since you're there for three years of your life."
Still, flattered by the warm reception Concordia students received at URTA, she added: "I was blown away. Everywhere we went, scouts would say, 'Look, it's the Concordians! What is it with you guys? Your stuff is amazing.'"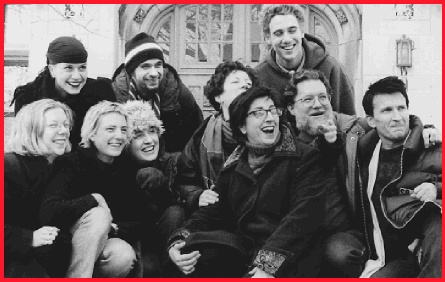 Theatre Professor Ana Cappelluto (in the front, with glasses) and her gang of Theatre Design students before departure for New York. Back row, Dominique Guindon, Michel Ostaszewski and Noah Dubreuil. Second row, Michelle Bohn, Amy Keith, Cathia Pagotto, Xenia Buchmann (half hidden), Eric Mongerson (chair, Theatre Department) and Vali Tirsoaga. <! _______________________________________________________________________________>


Copyright 1998 Concordia's Thursday Report.