! CONCORDIA'S THURSDAY REPORT ON-LINE> <! September 9th, 99 Issue> <! Site Designede and Developed by: S. Mehrad B.Eng. For comments and problems contact: technical@mehrad.qc.ca> <! http://www.mehrad.qc.ca>



<! ________________________________________________________________________________>
Celebrate the success of the Capital Campaign
Almost two years after its public launch, the Campaign for a New Millennium is set to celebrate its success, and the entire Concordia community is invited to the party.
The festivities, which get under way at 11 a.m. on Friday, October 1, at the Concert Hall on the Loyola Campus, will feature special guests, the unveiling of the campaign total, and a swinging concert by Andrew Homzy and his 16-piece jazz orchestra.
Special shuttle buses will be available to ferry downtown faculty, staff and students to the Loyola Campus at 10:30 a.m. Please make a point of joining us. It's your campaign, your success, and your celebration.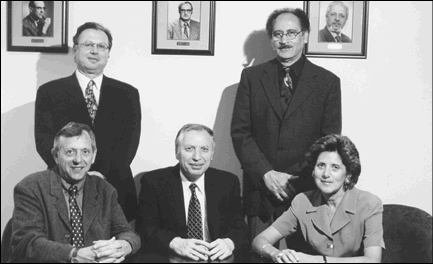 Susan Raymer visited the Faculty of Engineering and Computer Science recently to discuss the student exchange program. With her in the front row are Technion-Israel Institute of Technology's Sam Frydman (left) and Daniel Weihs. Standing are Ben Wygodny, president of the Montreal chapter of Technion, and Dean Nabil Esmail.
$125,000 gift for Israel-Canada student exchange program
Susan E. Raymer (L BA 71), president of Rayrow Realties, has provided Concordia's Faculty of Engineering and Computer Science with the means to finance a two-way student exchange with the Technion-Israel Institute of Technology, based in Haifa.
Through the university's Capital Campaign and the Goldie and Joe Raymer Endowment, named for her parents, she has given $125,000 for the project. It would finance an exchange every year, alternating between the host institutions.
Concordia has had an academic agreement with Technion for about four years now, and Raymer's husband, Ben Wygodny, is the president of the Montreal chapter of the Canadian Technion Society, one of 24 such Technion support organizations worldwide.
Two academics from Technion recently visited Concordia to finalize the project, Provost Daniel Weihs and Sam Frydman, Director of International Relations. When they were asked to describe Technion they both exclaimed, only half-joking, "It's the MIT of the Eastern Hemisphere!"
Technion is, in fact, a leading institution in the region, with some 13,000 students in graduate and undergraduate programs. Founded in 1924 by Albert Einstein, the school has a dozen departments in various aspects of technology, plus faculties of medicine and architecture.
Prospective exchange students from Montreal would need to understand Hebrew to benefit from undergraduate courses at the Technion, but an intensive five-week language course is available for beginners.
Susan Raymer said that she conceived the exchange program not only to further the education of deserving students, but to give them a rewarding cultural experience. At Technion, overseas students are encouraged to live and socialize with other young Israelis.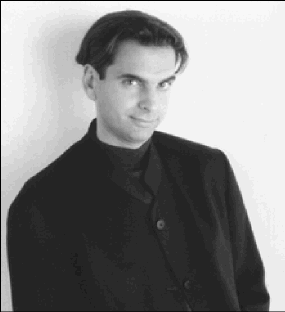 Daniel Langlois
Concordia will establish an academic chair in Digital Image/Sound and the Fine Arts, thanks to a $300,000 gift from La Fondation Daniel Langlois pour l'art, la science et la technologie. Daniel Langlois founded the highly successful company SoftImage, and is a UQAM Fine Arts graduate.
The chair will lead to the creation of programs and research structures for digital technologies in fine arts and computer science.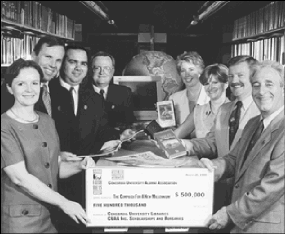 The Concordia University Alumni Association (CUAA) has contributed $500,000 to the University's Campaign for a New Millennium, to be divided equally between the library and financial aid to students. Seen above are, left to right, Elaine Arsenault (president, CUAA), Roger C™tˇ (Director, Socio-Economic Services), Michael Di Grappa (past-president, CUAA, 1996-98), Pierre Frˇgeau (past-president, CUAA, 1990-92), Ann Vroom (Director, Alumni Affairs), Nicole Faurˇ (past-president, CUAA, 1994-96), William Curran (Director of Libraries), and Rector Frederick Lowy.

<! _______________________________________________________________________________>




Copyright 1999 Concordia's Thursday Report.