! CONCORDIA'S THURSDAY REPORT ON-LINE> <! September 9th, 99 Issue> <! Site Designede and Developed by: S. Mehrad B.Eng. For comments and problems contact: technical@mehrad.qc.ca> <! http://www.mehrad.qc.ca>



<! ________________________________________________________________________________>
Teaching is much more than talking
How a modest grant can bring creativity into the classroom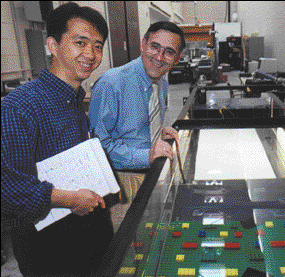 Building Engineering Professor Ted Stathopolous with PhD student Xiang-Dong Du, a water expert from China who helped create the water flume.
Ted Stathopoulos has had a lot of Faculty Teaching Development (FTD) grants in his 20 years at Concordia, although they're hardly on the scale of grants he gets for his research. The first one, in fact, was for only $200.
However, that tiny grant started a collection of teaching tools (or toys, as he calls them) that teach the principles of engineering mechanics in a colourful, memorable way.
"These little models had to be sturdy enough to use over and over again and be passed around a classroom, and they had to be small enough for me to carry in my briefcase. I keep them in my office so that students can illustrate their problems in discussions with me."
His inexpensive "toys" have got a lot of attention from beyond Concordia. He's even written papers about them for journals on engineering pedagogy. Some people have suggested that he copyright and commercialize them, but he just shrugs and smiles.
Stathopoulos's latest FTD grant is to design and build a water flume in the Department of Building, Civil and Environmental Engineering. It will show undergraduate students the vagaries of environmental flow -- how pollutants could be carried by smoke, for example, or how snow could pile up around the corners and crevices of a building.
Water flows through two-metre-long, 50-cm-deep channel, at a controlled speed, around little models of buildings and cityscapes made of Lego or other simple materials. Water coloured with vegetable dye is introduced to represent the snow or the smoke, and the students can easily see how it behaves. It's a hands-on activity that is simple, cheap and more graphic than a blackboard lecture.
Environmental flow is not a subject with many rules, as yet, and Stathopoulos plans to improve his water flume far beyond the undergraduate level for research in the field.
Faculty Teaching Development grants are disbursed by Concordia's Centre for Teaching and Learning Services (CTLS), the unit that tries to help professors improve their teaching skills. Grants now range from $2,000 to $8,000. Every year, the Centre receives highly imaginative project proposals, all designed to make difficult ideas come alive for students.
Mei Chen, in the Department of Education, is using something she calls IKIS (Internet-based Knowledge Integration System) to teach graduate students the complex design skills they need in order to develop teaching software.
Management Professors Marie-France Turcotte, Terri Lituchy and Sharon Leiba-O'Sullivan are using an FTD grant to investigate how ethics are taught in the field of international business.
In Fine Arts, a Web site is being constructed to parallel a public art project called "But Now I have to Speak: Testimonies of Trauma, Resilience and Change." The collaboration, which brings together Devora Neumark, Loren Lerner and about a dozen other women from several disciplines, concerns violence against women and the possibilities for healing through art.
Public art, sometimes called interventionist art or social design, is politicized and directly engaged with the community. For example, Neumark has created a postcard series on the connections between back pain and family violence.
The Web site, which should be up by October 1, promises to be richly beautiful, with examples of teaching projects and related research that can be used by students and teachers for years to come. Since much public art is ephemeral, the Web site will act as a gallery for a number of projects. It will include teaching and learning tools, and information about a symposium on public art planned for November 5 to 7 here at Concordia.
Professor P.K. Langshaw, who heads the Web project, has taught classes on social design in which she sends students out of the classroom. Homelessness in Montreal was the subject of research for one group, who produced informational posters on what they discovered, and mounted them around the city.
For more information on Faculty Teaching Development grants, please contact the Centre for Teaching and Learning Services, LOY-WD-207, 848-2495. -BB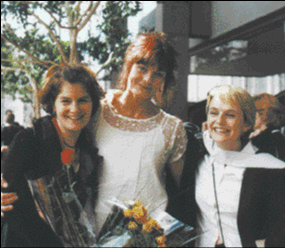 Professor P.K. Langshaw (centre) at June convocation with Adri Miranda (left) and Pata Macedo (right), both from Brazil. Now working in the Faculty of Fine Arts, they are designing the Web site for Public Art as Social Intervention.

<! _______________________________________________________________________________>




Copyright 1999 Concordia's Thursday Report.