! CONCORDIA'S THURSDAY REPORT ON-LINE> <! September 9th, 99 Issue> <! Site Designede and Developed by: S. Mehrad B.Eng. For comments and problems contact: technical@mehrad.qc.ca> <! http://www.mehrad.qc.ca>



<! ________________________________________________________________________________>
Graduate student group hires a PR officer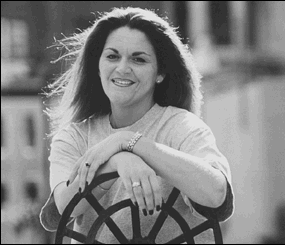 The Graduate Students Association (GSA) is so determined to raise its profile that it has hired its own public relations officer.

Dawn-Alee Fowler comes to the job with an interesting background. A mother of two, she is pursuing a Master's in Public Policy and Public Administration at Concordia. However, she also has 10 years' experience as an RCMP officer, and was a bodyguard to two prime ministers, Pierre Trudeau and Brian Mulroney.

She even doubled as dancing partner to Trudeau when needed. "He is such a great dancer," Fowler said. "I had to struggle to keep up."

Concordia has about 3,500 graduate students, all of whom are automatically members of the GSA. The goal of the executive is to get more of those passive members to be more active, for their own good. More active membership is not only enriching in itself, but could result in more scholarships in a notoriously underfunded sector.

Under the dynamic leadership of president Colin Dennis, the GSA has been upgrading Grad House, at 2030 Mackay St. The facility was redecorated, and new computers were installed for the use of members, quadrupling access.

A satellite dish has been installed so that graduate students from around the world can stay in touch, and a new cafˇ will make Grad House home-away-from-home on weekdays from 10 a.m. to 11 p.m.

The GSA has also instituted an emergency loan plan for its members, to be administered by the university's Financial Aid office, but under less stringent rules than usual. The loans are supported in part by fundraising activities, another innovation that has brought the students together for fun and their own benefit.

Last year, these efforts contributed to the Capital Campaign and two GSA scholarships, as well as the emergency loan fund. Now, plans are under way for an annual awards dinner.

- With thanks to The Bridge

<! _______________________________________________________________________________>




Copyright 1999 Concordia's Thursday Report.