! CONCORDIA'S THURSDAY REPORT ON-LINE> <! September 9th, 99 Issue> <! Site Designede and Developed by: S. Mehrad B.Eng. For comments and problems contact: technical@mehrad.qc.ca> <! http://www.mehrad.qc.ca>



<! ________________________________________________________________________________>
Welcome to our new tenure-track faculty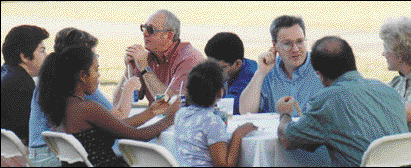 Every year, the Centre for Teaching and Learning Services organizes a day of orientation for new faculty members, and winds it up with a family barbecue on the Loyola Campus. This year, the sixth, was the biggest so far, with 49 new faculty members attending. Half of them are presented on this page, with the rest to follow in the next issue of CTR.
Charles Acland (Communication Studies) comes from the University of Calgary. He took Concordia's Communications Graduate Diploma before completing his PhD at the University of Illinois' Institute of Communications Research. He specializes in media theory.
Roberto de Almeida (Psychology) is a specialist in cognitive science and psycholinguistics. He pursued his PhD at Rutgers University, focusing on the representation of lexical concepts. He was a post-doctoral fellow at the University of Alberta, where he worked on the Mental Lexicon Research Project.
Anjali Agarwal (Electrical and Computer Engineering) is a Concordia PhD (1996), and has worked for Positron Fiber Systems and at the Harris Corporation.
Shawn A. Bailey (Studio Arts) completed his MFA at York University in print media. He has exhibited his work in Calgary, Toronto, Sydney and London, and has given workshops on Imagon Processes and Digital Techniques for Intaglio. His work focuses on the inter-connected themes of authority, control, addiction, repetition and media.
Yves Bilodeau (Studio Arts) was coordinator for the Digital Image/Sound and the Fine Arts Program last year. Having completed his MA at UQAM in 1993, he is at present working on his PhD: "Artificial Life as Media: Semiotic Approach to Communication Robotics." Using his artist's name, Bill Vorn, he has exhibited his interactive installations internationally.
Cary Boucock (Sociology and Anthropology) has spent the past two years at Concordia as an LTA, teaching courses in classical social theory, social deviance and the sociology of knowledge. He completed his PhD studies at the University of Cambridge, England. He specializes in classical and contemporary sociological theory, with an emphasis on issues of social deviation.
Emilio Boulianne (Accountancy) has degrees from Université Laval, where he also taught in 1995. He has also worked in the banking industry. He is currently working toward his PhD from the École des Hautes Études Commerciales.
Jason Camlot (English) graduated from Concordia (BA 1990), Boston University and Stanford University (PhD). A specialist in Romantic and Victorian literature, his teaching will range from critical theory and aesthetics through 19th-century literature to the intersections of literature and communication technologies.
Andrew Chapman (Psychology) is a specialist in behavioural neuroscience. He examined sensory processing in the olfactory system during his PhD studies at McMaster University, and his post-doctoral research at the Université de Montréal focused on inhibitory neural mechanisms in the hippocampus that contribute to learning and memory.
Mingyuan Chen (Mechanical Engineering) comes to us from the University of Regina, where he has taught since 1991. He received his Bachelor and Master's degrees from the Beijing Institute of Aeromechanics and Astronautics, and his PhD from the University of Manitoba in Industrial Engineering.
Selvadurai Dayanandan (Biology) is a specialist in the ecology of plant reproduction and the genetics of forest trees. A native of Sri Lanka, he pursued his PhD at Boston University and comes to Concordia from the Forest Genetics Laboratory at the University of Alberta.
Richard Demont (Exercise Science) recently completed a PhD in Sports Medicine at the University of Pittsburgh, where he also taught undergraduate courses in human anatomy. He has 10 years of experience as an athletic therapist. He is specifically interested in muscle control and its role in preventing injuries and improving the rehabilitation process.
David Elliot (Studio Arts) has been teaching at Champlain Regional College, as well as part-time at Concordia since 1979. A painter, strongly influenced in his early years by Greg Curnoe and Jack Chambers, he has exhibited his work across Canada and in Mexico and Taiwan. He received his MFA from Concordia in 1979.
Evergon (Studio Arts) received his BA at Mount Allison University and an MFA at the Rochester Institute of Technology in 1974. He has taught and been artist-in-residence in se veral universities and art colleges in Canada and abroad. An active artist, Evergon has shown his work in many galleries, both in group and solo exhibitions.
Ariela Freedman (Liberal Arts College) is a 1994 graduate of Concordia's Liberal Arts College who went on to pursue her MA and PhD at New York University. She spent 1998-99 at the LAC as a visiting lecturer. Her interest includes psychoanalysis through novels, memoirs and short stories.
Michael J. Gasher (Journalism) is a 21-year veteran of the newspaper industry, having worked as a reporter and editor at several papers, including the Vancouver Province. He joined the University two years ago as an LTA, teaching courses in reporting methods, feature writing and media in Quebec.
Karine Gobert (Economics) is a native of France who came to Montreal to earn her MA from the Université de Montréal. She has focused her post-doctoral studies on integrated risk management and has a keen interest in corporate finance.
Don de Guerre (Applied Human Sciences) comes to Concordia with 20 years of experience in organization design and development, including nine years as manager of organization effectiveness at Syncrude Canada, in Fort McMurray, Alta. He recently completed a PhD in human organization systems at the Fielding Institute in Santa Barbara, California.
Allyson Hadwin (Education) received her BAH, Bachelor of Education and MEd from Queen's University. Her PhD, examining self-regulating learning as a social phenomenon, is near completion at Simon Fraser University. A proponent of computer-enhanced learning, her expertise includes the design and evaluation of computer-based instructional tools.
Richard Kerr (Mel Hoppenheim School of Cinema) comes to Concordia from the Film and Video Department, University of Regina, where he was an Associate Professor. He has made a 35-mm feature film (Willing Voyeur, 1996), done installation work (t/ After Motion Picture Series, 1998) and is currently developing a time-based digital video (Human Tragedy on a Grand Scale, 1999).
Gregory E. Kersten (Decision Sciences/MIS) comes to us from Carleton University, where he headed a decision analysis lab and the Director of the Centre for Computer Assisted Management. He got his MSc and PhD from the Warsaw School of Economics, and his research interests include individual and group decision-making, negotiations, artificial intelligence, decision support and simulation.
Dimitri Korotkin (Mathematics and Statistics) is a native of St. Petersburg, Russia, who has taught graduate and undergraduate courses across Europe. His most recent posting was as a junior staff member at the Max Planck Institute for Gravitational Physics in Potsdam, Germany. His expertise is in the study of gravity.
Franz Kurfess (Computer Science) obtained his doctorate from the Technical University Munich (Germany), and has worked at the New Jersey of Technology in Newark. His research interests lie in the use of advanced technologies like component-based development methods, intelligent agents, and content-oriented knowledge retrieval.
Corinne Langinier (Economics) is a native of France who comes to Concordia from the University of Southern California, where she was a visiting professor in the Department of Economics. Her areas of expertise include industrial organization and intellectual property rights.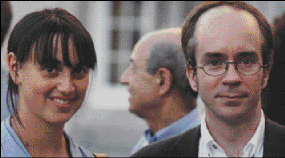 Ariela Freedman (Liberal Arts College) and Benoit Léger (Études franćaises)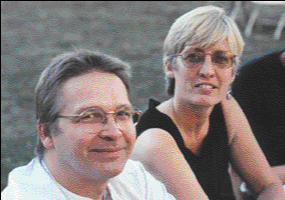 David Elliott (Studio Arts) and Andrea McCartney (Communication Studies)

<! _______________________________________________________________________________>




Copyright 1999 Concordia's Thursday Report.