! CONCORDIA'S THURSDAY REPORT ON-LINE> <! Oct 7, 99 Issue> <! Site Designede and Developed by: S. Mehrad B.Eng. For comments and problems contact: technical@mehrad.qc.ca> <! http://www.mehrad.qc.ca>



<! ________________________________________________________________________________>
Shrine Bowl has special meaning for Stinger star
by John Austen
---
Concordia football player Wayne Dunn says he was nervous as he entered the Montreal Shriners Hospital for Children on September 28. The second-year Economics student joined several of his Stinger teammates and players from the McGill Redmen at the hospital not only to promote the Shrine Bowl football game played October 2 at Concordia Stadium, but to bring some joy into the lives of the sick children.
The visit had a special meaning for Dunn, who was hospitalized two years ago after a serious car accident left him with two displaced vertebrae and the possibility of never playing football again.
"I remember freaking out in hospital after the accident because I really wanted to get back to normal and play football again," said Dunn. "I started crying when the doctor said it would be six months of rehabilitation."
Today, Dunn is the picture of health. The six-foot-two, 215-pound LaSalle resident is a leader on the Stingers who, after their 45-0 drubbing of McGill in the Shrine Bowl, have a perfect record (four wins, no losses) and are the number-two ranked team in Canada.
"Things are going really well for me right now," Dunn said. "It didn't look so good after the accident, but I always stayed positive. I remember telling myself that I had to get out of hospital and get back to playing football."
Dunn says that it was August 6, 1996, the date of the accident, that gave him a new vision.
"I was in my friend's Mustang and we were just outside St. Sauveur," he recalled. "It was a two-lane highway. There was a car coming at us in our lane and we swerved to avoid him. The car flipped twice and ended up landing on its roof in a ditch. My friend was OK, but my head jammed against the roof and I crushed the two vertebrae.
"That accident changed the way I view things," he continued. "I can really relate to these kids in the hospital and it was great to see the hope, the smiles on their faces. The kids seemed to really look up to all the football players."
The Stingers didn't disappoint their new fans as they played a flawless Shrine Bowl game in front of 3,000 fans. It was also Concordia's annual homecoming game.
Profits from the game and the program (which has raised more than $230,000 in the past 12 years) go to the Montreal Shriners Hospital for Children. The hospital offers free orthopedic care to children from all over the world. This year marks the 77th anniversary of the Shriners Hospital.
Hugo Carri¸re led the way for Stingers with two touchdown catches, while the defence, thanks in part to another strong game from Dunn, recorded its first shutout in three years.
"Our team is rolling right now, and I'm really glad to be a part of it," Dunn said. "Despite the accident, I always knew I would play football again. It's a big part of my life."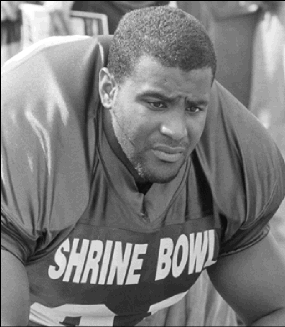 Stingers swarm 45-0 over Redmen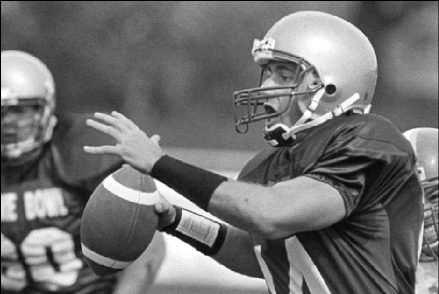 Towards the end, even the Concordia fans were feeling sorry for the Redmen, as the red-hot Stingers, ranked second among Canadian college football teams, routed the outclassed McGill team in the Shrine Bowl/Homecoming Game last Saturday afternoon. Above, Stingers quarterback Sean Hoas lines up a receiver during the first quarter. Outstanding players included Hugo Carri¸re, Anthony Brown and Loan Duong.
Coming up in sport
October 8: men's hockey, Concordia at McGill, 7:30 p.m.
October 9: football, Concordia Stingers vs. Laval Rouge et Or at the Concordia Stadium, 1 p.m.

October 9: women's soccer, Concordia at Laval, 1 p.m.

October 10: women's soccer, Sherbrooke vs. Concordia, 1 p.m.

October 10: men's soccer, Sherbrooke vs. Concordia, 3 p.m.

<! _______________________________________________________________________________>




Copyright 1999 Concordia's Thursday Report.