! CONCORDIA'S THURSDAY REPORT ON-LINE> <! Oct 7, 99 Issue> <! Site Designede and Developed by: S. Mehrad B.Eng. For comments and problems contact: technical@mehrad.qc.ca> <! http://www.mehrad.qc.ca>



<! ________________________________________________________________________________>
Student meets his literary hero
by Andrew McCambridge
---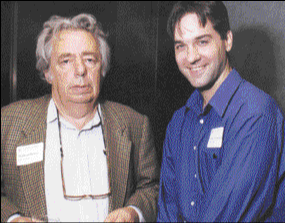 I felt like Duddy Kravitz, the young hustler in The Apprenticeship of Duddy Kravitz. I had just wheeled and dealed my way into an interview with Canada's foremost satirist.
My selling point was that he is a hero of mine. As part of my undergraduate degree in English, I had taken a course called Canadian Historiographic Metafiction, and I got an A on my essay comparing Solomon Gursky Was Here to Rudy Wiebe's The Temptations of Big Bear.
I was by far the youngest person at this schmooze-fest of professors, alumni and dignitaries. I was standing alone with a pen and notepad while small groups of wine-toasting 40-somethings exchanged pleasantries.
However, I figured Richler probably disliked these well-to-do academic types. If things went well, we could both ditch this joint and start pounding 'em back on Crescent St. by 10 o'clock.
I pushed through the groupies conspiring for Mordy's affection and faced my hero. "Excuse me, Mr. Richler," I said politely. "I'm writing an article for the school newspaper. Can I get a photo with you and ask you some questions?" Richler nodded, with raised eyebrows and a crinkled forehead.
After photos were taken, I went into my interrogation. "In the photo for your Gazette column, you look so serious, like you're pondering the weight of the universe. It reminds me of that ridiculous picture L.B. Berger has of himself in Solomon Gursky Was Here. Are you having fun with your public persona?"
With a solemn expression beneath his Beethoven-like hair, he just stared at me. Did I just insult him? Maybe he liked that photo. Taking a deep breath, I now tried to relate to him on his own sarcastic level. "Mr. Richler, whataya think of the literary criticism on your work? It's a buncha crap, ain't it?"
"Yeah," he replied with total indifference. No, make that contempt. I felt drips of perspiration trickle down my back. Please, Mordecai, I thought, say something before the sweat starts showing through my shirt. Still, absolute silence. Within seconds, Richler left my company for a circle of dignitaries near the entrance of the dark room.
This was supposed to be the first major coup of my young career: a detailed interview with Mordecai Richler. It lasted mere seconds and consisted of one crappy syllable. That night I consoled myself by reading a great Canadian novelist -- Margaret Atwood.
- Andrew McCambridge is in the Journalism Diploma program. <! _______________________________________________________________________________>



Copyright 1999 Concordia's Thursday Report.