! CONCORDIA'S THURSDAY REPORT ON-LINE> <! Oct 7, 99 Issue> <! Site Designede and Developed by: S. Mehrad B.Eng. For comments and problems contact: technical@mehrad.qc.ca> <! http://www.mehrad.qc.ca>



<! ________________________________________________________________________________>
Ignatius and Georgina tie the knot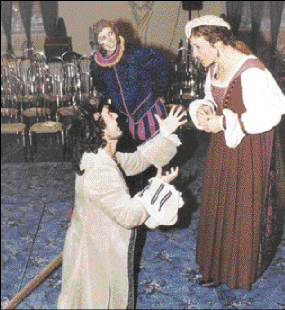 There were two weddings going on at the Buffet Roma in St. Leonard on Saturday night. The one downstairs was a real one, with a bride in white and all the trimmings, but upstairs, it was something completely different.
Honeymoon? What Honeymoon? Ignatius and Georgina's Comedy Wedding was cooked up by Alumni Affairs to make the annual Homecoming banquet something special in this 25th anniversary year. Their brilliant idea was a mock wedding between the personifications of Loyola College and Sir George Williams University.
Kirk Johnson, a student doing his MA in Creative Writing, wrote the play. He envisioned an ambitious Romeo-and-Juliet story of courtly love and domestic intrigue, with sumptuous costumes and Shakespearian cadences.
The "Merger Players," as they styled themselves, rose magnificently to the occasion. Volunteers from the ranks of Concordia staff were supplemented by several experienced actors, and they were ably directed by Heather Markgraf, Concordia Theatre Facilities Director and head of a theatre company in Hudson.
"Oyez, oyez!" shouted the town crier (Ron Spurles), directing the 200 guests into a room with a raised dais. A sprightly jester (Danielle Skene) set the scene for the action. The dashing Count Loyola (Board of Governors member Alex Carpini) had been driven by circumstance to seek a profitable union between his son (student Abe Drennan) and the daughter of the despised Williams clan.
Father Fitzsimmon (Corey Castle) was hard to convince because he already had a lot to contend with. Young women in short skirts seemed to be everywhere, and the Loyola family had always been wary of the Williamses.
Enter King Williams (alumnus Albert Redman) and Queen Williams (Marketing Communications Director Sandra Spina), with their sobbing daughter (alumna Mona Rutenberg) in tow. Naturally, the young couple hit it off immediately, and the wedding, with its familiar words of hope and promise, was genuinely touching. Sarah Milton, daughter of two Concordia employees, played the flower girl.
The actors stayed in character in the banquet hall, and an epiphany of sorts was reached when the bride's brother (Carl Kouri) started to leave in a fit of pique.
Up leapt earnest proselytizers Howard Bokser, Charles Emond, Claude Jacob and Garry Milton, who admonished him, "Young man, there's no need to feel down. Young man, pick yourself off the ground!" Instantly, the guests were up on their feet, doing a wild, arm-waving version of that party classic, YMCA.
Writer Kirk Johnson basked in the glory of his successful script with his parents, who had flown in from Halifax for the occasion. Last year, Johnson and a collaborator published a well-received book, Montreal Up Close: A Pedestrian's Guide to the City (Cumulus Press), which has led to a number of writing commissions.
A full weekend
As always, Homecoming included reunions of old pals. The Rector's Reunion Dinner this year fÉted the Classes of 1974, '69, '64, '59, '54, '49, '44 and '39.

While the turnout for the campus tours was small and the well-primed student guides disappointed, these tours, and the historical information prepared for them, will be ready for Homecomings for years to come.

The Homecoming Cup/Shrine Bowl football was preceded by a barbecue lunch and followed by a lively victory party in The Hive.

Hats off to the staff of the Alumni Affairs Office for their efforts.

<! _______________________________________________________________________________>




Copyright 1999 Concordia's Thursday Report.