! THURSDAY REPORT ON-LINE><! 05/11/1998 Issue><! By: S. Mehrad B.Eng. For comments and problems contact: technical@mehrad.qc.ca><! http://www.mehrad.qc.ca>
<! ________________________________________________________________________________>

by Derek Cassoff
---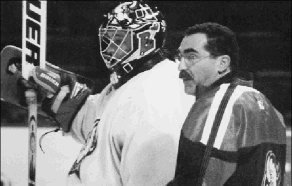 Hockey was never Jim Corsi's favourite sport. Growing up in the home of Italian immigrants, the Montreal native was weaned on a steady diet of soccer, soccer and more soccer.
In fact, back in his student days at Concordia, he was a star on the soccer field, but twice failed to crack the line-up of the powerful Stingers varsity hockey team. He did make it the third time around, and backstopped the team all the way to a provincial championship.
He was named the outstanding university hockey player that year -- unprecedented for a goaltender -- and went on to post a solid 18-year career as a professional goalie, including one season with Wayne Gretzky and the Edmonton Oilers and 14 years as an international star in Italy.
Back in Canada two years now, Corsi has just opened the next chapter of his hockey career, landing a part-time job as the goalie coach for the National Hockey League's Buffalo Sabres.
Among his duties will be offering guidance and technical support to Olympic gold medalist and two-time reigning NHL MVP Dominik Hasek, a job that ranks right up there with Albert Einstein's math tutor and Beethoven's piano teacher.
But Corsi, 44, is not intimidated by the task at hand. Instead, he says he welcomes the opportunity to work beside one of the greatest goalies of all time.
"Dominik Hasek is not just a really good goalie, he's a master at his art," Corsi said. "Part of my challenge is to learn what is so great about him and figure out how to transfer it to others."
Those others include Martin Biron, a minor leaguer pegged as the Sabres' goalie-of-the-future, as well as a host of junior-aged prospects scattered from Medicine Hat, Alta. to Tampere, Finland.
"The emphasis is obviously on the minor leagues," said Corsi, who will spend about one week per month away from his Île Bizard home, shuttling between Buffalo and the team's top farm team in Rochester, N.Y.
"I have to make sure that our goaltending system as a whole is ready. Everybody has to be ready at all times, mentally and physically."
Corsi certainly has the hockey experience, having worked as both a player and a coach in the Italian pro leagues long before it became fashionable for Canadians to export their hockey know-how to Western Europe. His highlight remains a game against Canada at the 1982 World Championships, when he turned back 55 shots to lead the overmatched Italians to a 3-3 tie against a Team Canada squad made up of NHL All-Stars.
He served as an assistant coach with the Italian team at the 1984 Winter Olympics in Sarajevo and continued his work behind the bench upon his return to Canada, working as a goalie coach with the University of Ottawa, the St. Michael's Majors of Ontario's top junior hockey league and, this summer, with a team in Germany's pro league.
"I had to show that I was able to work with various levels of goaltenders, starting at the junior and collegiate levels," said Corsi, who had never hidden his desire to become an NHL goalie coach.
Through it all, Corsi, a former class valedictorian, has remained close to his Concordia roots. He was elected to Concordia's Sports Hall of Fame two years ago for his hockey and soccer exploits and has now assumed a part-time position in the University's Athletic Department as coordinator of the Student-Athlete Academic Support Program, which, as its name implies, offers support and guidance to varsity athletes juggling the dual pressures of sports and academics.
"Large problems can be reduced to small problems just by focusing," he said. "If you can focus on 55 football players trying to crush your brains, then you can focus on one hour of homework."
Goalie Dwayne Roloson with Jim Corsi in practice for a recent Sabres-Habs game at the Molson Centre. <! ________________________________________________________________________________>