! THURSDAY REPORT ON-LINE><! 05/11/1998 Issue><! By: S. Mehrad B.Eng. For comments and problems contact: technical@mehrad.qc.ca><! http://www.mehrad.qc.ca>
<! ________________________________________________________________________________>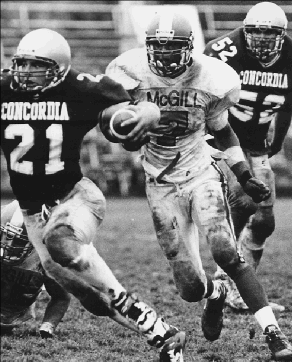 Concordia's football team is breaking the record books. The Stingers defeated the Ottawa Gee-Gees 43-20 last Saturday, which improved their win-loss record to 6-2 and put them in first place in the Ontario-Quebec Interuniversity Football Conference. It's the first time in Concordia history that the Stingers have finished first in the regular season.
The semi-final on Saturday is a home game against the Bishop's Gaiters, starting at 1 p.m.
The Stingers won the annual Concordia-Nike Basketball Tournament, defeating the Laurentian (Sudbury) Voyageurs 84-72 in the final on October 24. Jay Prosper was named Most Valuable Player.
In hockey, the women's team is 4-0 QSSF, 8-1 overall. The team won honourable mention recently in the U.S.-based magazine Athletic Management 's 1998 ATALANTA awards program. The men's hockey team is also having a good season so far, and is ranked 10th in the CIAU (4-1 OUA, 7-5 overall).
The women's rugby team defeated the Bishop's Gaiters 17-0 in the QSSF semi-finals, earning a spot in the inaugural CIAU women's rugby championship, to be held November 12 to 15 at McMaster University, in Hamilton. They finished second in the QSSF, and will meet the
McGill Martlets in the QSSF championship this weekend. The coach is Sheila Turner, a former Concordia player.
The men's soccer team won its semi-final matchup against the Sherbrooke Vert et Or last Sunday, 1-0. The Stingers will play the UQAM Citadins for the QSSF championship on Sunday at Concordia.
Director of Recreation and Athletics Harry Zarins has been named chef de mission for Canada's entry in the 1999 Winter World University Games, scheduled for January 22-30 in Proprad-Tatry, Slovakia. Forty-three countries will compete in 15 events. <! ________________________________________________________________________________>