! THURSDAY REPORT ON-LINE><! 05/11/1998 Issue><! By: S. Mehrad B.Eng. For comments and problems contact: technical@mehrad.qc.ca><! http://www.mehrad.qc.ca>
<! ________________________________________________________________________________>

Pauline Gross has retired after teaching for 23 years in Concordia's Department of Applied Social Science.

As Coordinator of Certificate Programs and, later, Undergraduate Program Coordinator, Gross developed flourishing certificate programs, provided assistance to curriculum development of undergraduate degree programs, leadership in recruitment and advising to undergraduates, organization for recruitment and admissions procedures for the MA program.

She made a strong contribution to the creation of the new Applied Human Sciences Department, and her leadership in family life education extended beyond Concordia and into the community.

She was one of the part-time teachers most valued by her students over the years.

The celebration held in Pauline's honour on October 25 included the launching of the Pauline Gross Scholarship for Family Life and Community Education. If you would like to contribute, please contact Randy Swedburg, Chair of the department, at 848-2277.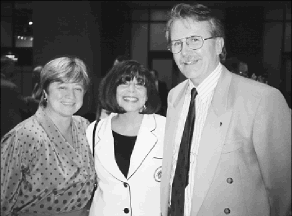 <! ________________________________________________________________________________>